Legends of Runeterra Succession is a Common Card from the Demacia Region. It will Cost 3 Mana to use and has 0 Health, 0 Attack and will Summon a Dauntless Vanguard. Other Spell Type Cards similar to this one are as follows: Iceborn Legacy, Onslaught of Shadows, Shatter.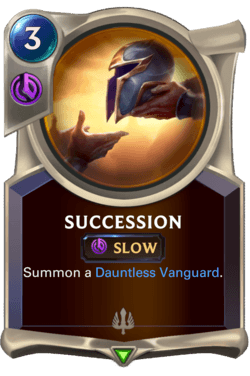 Tap the artwork to see full version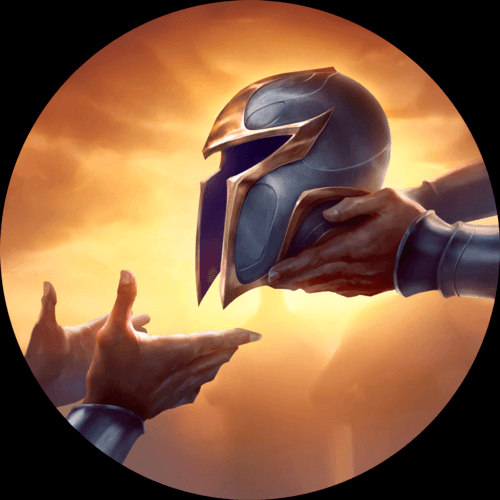 - Kudos Productions
Spell

Succession

Summon a Dauntless Vanguard.

100 Shards to Craft

Common Wildcard

Slow: Slow spells can be cast outside of combat and other casting. The enemy can respond.

Vestments of the Dauntless Vanguard are handed down from one soldier to the next, so that new recruits may feel the weight and pride of their responsibilities.

Core Set
Associated Cards for Succession.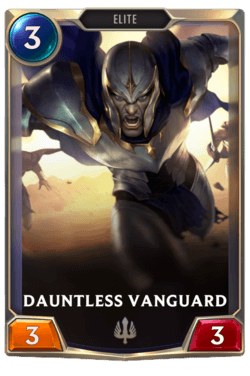 Tap artwork for full version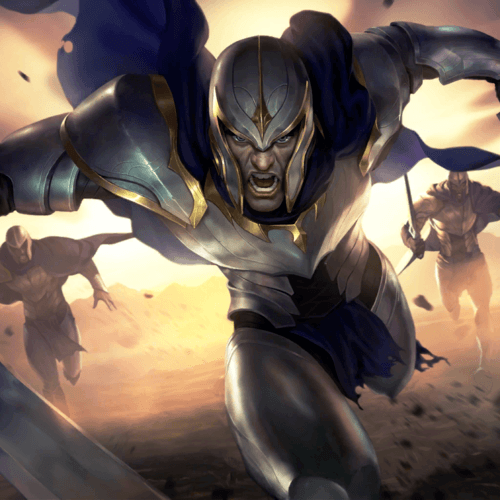 - SIXMOREVODKA
Unit

Dauntless Vanguard

This card doesn't have a description.

Demacia

Card

The Dauntless Vanguard are Demacia's most elite warriors, each a legend in their village or shire. But all of them seek to have their names known throughout the realm.

Core Set
LoR Succession Deck Builds
Challenger Ramp Deck Build
This Challenger Ramp Deck Build is one of the Best LoR Succession Deck Builds, you can find many cards that are good with Succession in Legends of Runeterra here. This deck uses Demacia Cards and Garen as its champions, it also has 26 Units and 11 Spells. In total thats 6 Common, 5 Rare, 2 Epic and 3 Champions. It will cost 21000 Shards to build this deck.
Import Deck Code: CEAQYAIAAECAUDAOCQNBYIRHF4ZQCAQBAADAOAA