Legends of Runterra Statikk Shock is a Rare Card from the Piltover & Zaun Region. It will Cost 4 Mana to use and has 0 Attack, 0 Health and will Deal 1 to two enemies. Draw 1. Other Spell Type Cards similar to this one are as follows: Culling Strike, Decisive Maneuver, Relentless Pursuit.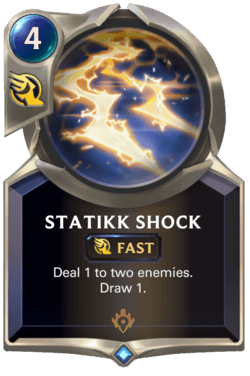 Statikk Shock

Piltover & Zaun

Spell

Rare

Deal 1 to two enemies. Draw 1.

Fast: Fast spells can be played at any time, but allow the opponent to respond.

"And that's how we discovered arc discharge! Of course, my predecessor had hypothesized such an event, but underestimated the arc's reach. Poor fellow..." - Heimerdinger
LoR Statikk Shock Deck Builds
Poison Puffcap Deck Build
This Poison Puffcap Deck Build is one of the Best LoR Statikk Shock Deck Builds, you can find many cards that are good with Statikk Shock in Legends of Runeterra here. This deck uses Piltover & Zaun Cards and Ezreal, Teemo as its champions, it also has 12 Units and 21 Spells. 5 of which are common, 4 Rare, 2 Epic and 6 Champions. It will cost 40050 Shards to build this deck.