Legends of Runeterra Splinter Soul is a Rare Card from the Shadow Isles Region. It will Cost 3 Mana to use and has 0 Health, 0 Attack and will Summon an exact copy of an ally. It's Ephemeral and 1|1. Other Spell Type Cards similar to this one are as follows: Iceborn Legacy, Onslaught of Shadows, Shatter.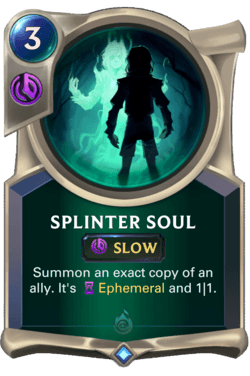 Tap the artwork to see full version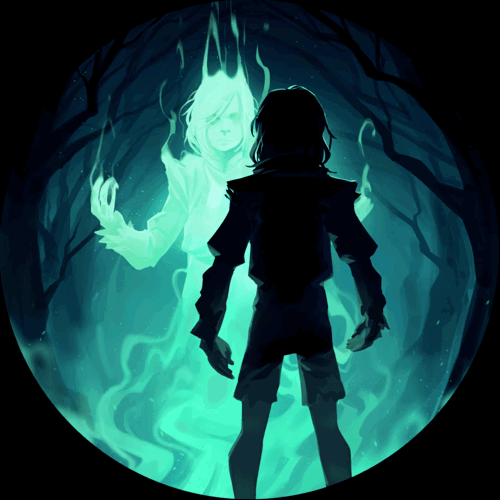 - Max Grecke
Spell

Splinter Soul

Summon an exact copy of an ally. It's Ephemeral and 1|1.

300 Shards to Craft

Rare Wildcard

Slow: Slow spells can be cast outside of combat and other casting. The enemy can respond.
Ephemeral: This unit dies when it strikes or when the round ends.

"I lifted the body from the water to identify the poor soul. As I laid my hand upon its shoulder, it turned and showed its face. It was... me?" - Arie Wrence, Demacian Soldier

Core Set
LoR Splinter Soul Deck Builds
Last Breath Deck Build
This Last Breath Deck Build is one of the Best LoR Splinter Soul Deck Builds, you can find many cards that are good with Splinter Soul in Legends of Runeterra here. This deck uses Shadow Isles, Noxus Cards and Thresh, Kalista, Katarina as its champions, it also has 18 Units and 16 Spells. In total thats 7 Common, 5 Rare, 2 Epic and 6 Champions. It will cost 27800 Shards to build this deck.
Import Deck Code: CEAQQAIFAUFSEKJNFYYDCAQBAEBSUBQBAUPCALZUHE5ACAQBAUHRY