Legends of Runeterra Solari Priestess is a Rare Card from the Targon Region. It's part of Call of the Mountain Expansion cards (Set 3). It will Cost 3 Mana to use and has 2 Health, 1 Attack and will Daybreak: Invoke a Celestial card that costs 4, 5, or 6. Other Unit Type Cards similar to this one are as follows: .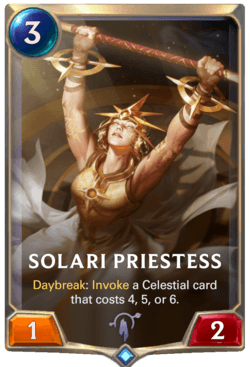 Tap the artwork to see full version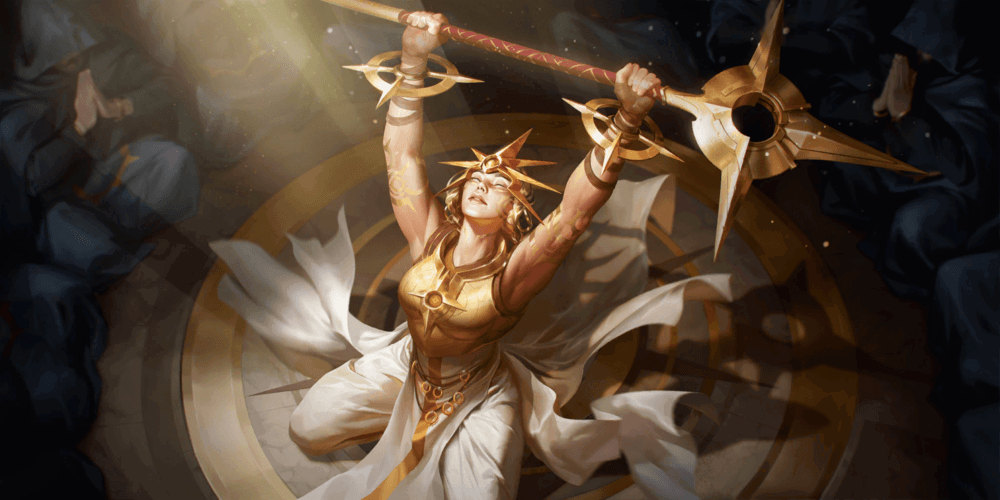 - Grafit Studio
Unit

Solari Priestess

Daybreak: Invoke a Celestial card that costs 4, 5, or 6.

300 Shards to Craft

Rare Wildcard

Invoke: Pick a Celestial card from among 3 to create in hand.
Daybreak: Bonus if this is the FIRST card you play in a round.

The Solari look to the stars for guidance as much as any other Targonian, for the star dearest to their faith is the sun.

Call of the Mountain (Set 3)
LoR Solari Priestess Deck Builds
Aurelion Sol Deck Build
This Aurelion Sol Deck Build is one of the Best LoR Solari Priestess Deck Builds, you can find many cards that are good with Solari Priestess in Legends of Runeterra here. This deck uses Targon, Shadow Isles Cards and Aurelion Sol, Thresh as its champions, it also has 20 Units and 14 Spells. In total thats 8 Common, 4 Rare, 1 Epic and 6 Champions. It will cost 27100 Shards to build this deck.
Import Deck Code: CEBQCAYFAQCAGBYTKZLWABYBAUGBIKBLFQYTIAIBAECTAAQBAMDVIAIBAUAQ
List of Cards similar to Solari Priestess.
There are no other similiar cards