Legends of Runeterra Slow Spells Cards List of every card using Slow - Slow spells can be cast outside of combat and other casting. The enemy can respond. Currently, there are 58 Cards with this effect, 0 of which are Units and 58 are Spells. By rarity thats 18 Common, 25 Rare, 15 Epic and Champions, majority of which are from the Freljord Region.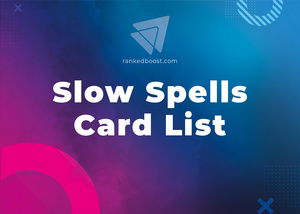 LoR Slow Spells Cards List
LoR Slow Spells Card List Breakdown
 Units 0
 Spells 58
 Common 18
Rare 25
Epic 15
Champion 0
Ionia 5
Shadow Isles 9
Demacia 7
Noxus 6
Freljord 10
Bilgewater 10
Piltover & Zaun 6
Targon 5
Cards with a Slow effect
You can view Card Decks that use Slow Spells Cards with the links below.
You can view other card types below.