Legends of Runeterra Silverwing Scout is a Common Card from the Demacia Region. It will Cost 4 Mana to use and has 3 Health, 2 Attack and will Other Unit Type Cards similar to this one are as follows: Kinkou Lifeblade, Vanguard Defender, Tianna Crownguard.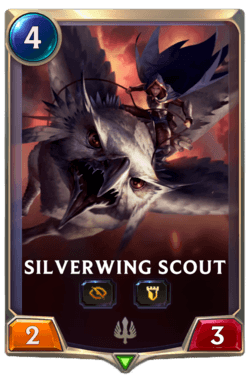 Silverwing Scout

Demacia

Unit

Common

Elusive: Can only be blocked by an Elusive unit.

Tough: Takes 1 less damage from all sources.

Arrows rained down from the fortress walls in droves, but none could touch that fleck of silver darting through the sky.
LoR Silverwing Scout Deck Builds
Deck build coming soon, you can browse our other builds here: