Legends of Runeterra Scrapdash Assembly is a Common Card from the Piltover & Zaun Region. It will Cost 2 Mana to use and has 0 Health, 0 Attack and will Summon 2 Scrap Scuttler. Other Spell Type Cards similar to this one are as follows: Onslaught of Shadows, Shatter, Trueshot Barrage.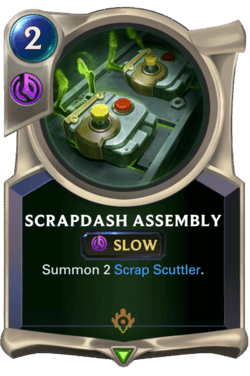 Scrapdash Assembly

Piltover & Zaun

Spell

Common

Summon 2 Scrap Scuttler.

Slow: Slow spells can be cast outside of combat and other casting. The enemy can respond.

Two gentle creatures, once separated by an impassable lane of land, were finally brought together in the tepid waters of the Sump.
Associated Cards for Scrapdash Assembly.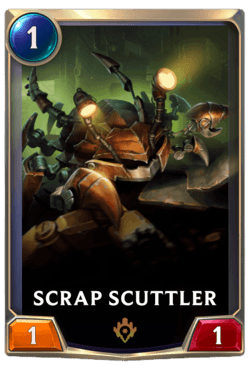 Scrap Scuttler

Piltover & Zaun

Unit

Everyone tries to chase it down. Poor little thing just wants to play in puddles!
LoR Scrapdash Assembly Deck Builds
Spell Control Deck Build
This Spell Control Deck Build is one of the Best LoR Scrapdash Assembly Deck Builds, you can find many cards that are good with Scrapdash Assembly in Legends of Runeterra here. This deck uses Piltover & Zaun, Shadow Isles Cards and Heimerdinger, Ezreal as its champions, it also has 8 Units and 33 Spells. In total thats 8 Common, 3 Rare, 3 Epic and 6 Champions. It will cost 33600 Shards to build this deck.