Legends of Runeterra Scarmaiden Reaver is a Rare Card from the Freljord Region. It will Cost 5 Mana to use and has 5 Health, 4 Attack and will Other Unit Type Cards similar to this one are as follows: Braum, Darius, Crowd Favorite.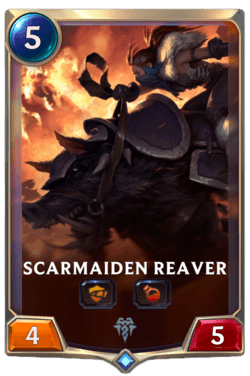 Tap the artwork to see full version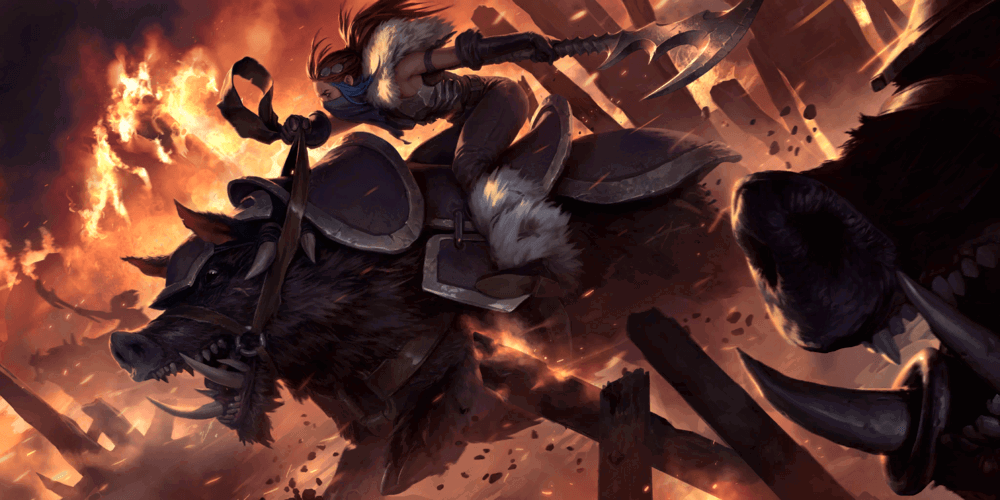 - SIXMOREVODKA
Unit

Scarmaiden Reaver

This card doesn't have a description.

300 Shards to Craft

Rare Wildcard

Overwhelm: Inflicts damage beyond what would kill the target(s) to the enemy Nexus.
Regeneration: Heals fully at the start of each round.

"The weak harvest, but the strong take. The little Avarosans will learn which they are!"

Core Set
LoR Scarmaiden Reaver Deck Builds
Late Game Ramp Deck Build
This Late Game Ramp Deck Build is one of the Best LoR Scarmaiden Reaver Deck Builds, you can find many cards that are good with Scarmaiden Reaver in Legends of Runeterra here. This deck uses Freljord, Demacia Cards and Tryndamere, Garen as its champions, it also has 21 Units and 13 Spells. In total thats 4 Common, 4 Rare, 4 Epic and 6 Champions. It will cost 34800 Shards to build this deck.
Import Deck Code: CEBAIAIAAIDQYEYJAEAQGBYMCQPSCJZJGYAACAIBAELQ