Legends of Runeterra Savage Reckoner is a Rare Card from the Noxus Region. It will Cost 7 Mana to use and has 4 Health, 7 Attack and will Other Unit Type Cards similar to this one are as follows: Braum, Swiftwing Lancer, Darius.
Tap the artwork to see full version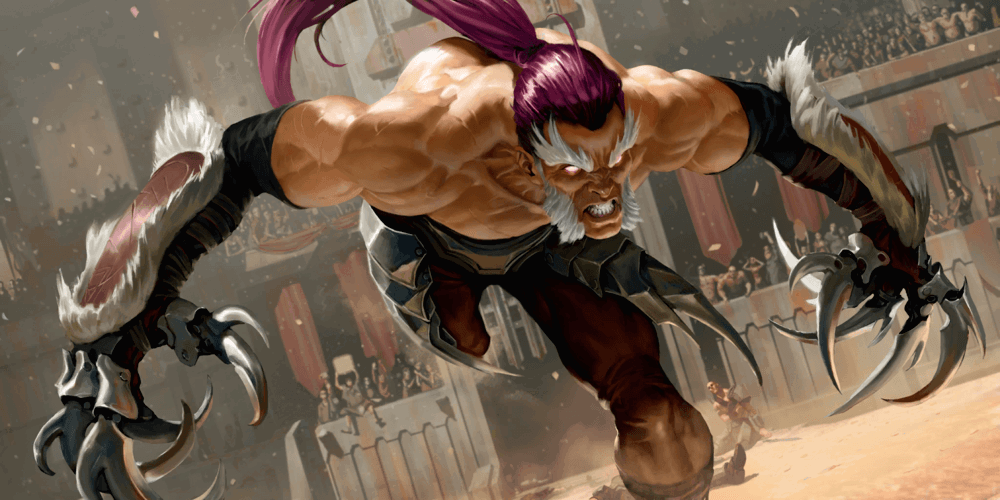 - SIXMOREVODKA
Unit

Savage Reckoner

This card doesn't have a description.

300 Shards to Craft

Rare Wildcard

Overwhelm: Inflicts damage beyond what would kill the target(s) to the enemy Nexus.
Challenger: Can choose which enemy unit blocks.

"Next up, CLAWS! Last time was a BLOODY takedown versus the Psycho Five... now the Psycho Three. Allllright! Takin' bets on today's victim! Four to one!" - Karl, Arena Bookie

Core Set
LoR Savage Reckoner Deck Builds
Overwhelm Deck Build
This Overwhelm Deck Build is one of the Best LoR Savage Reckoner Deck Builds, you can find many cards that are good with Savage Reckoner in Legends of Runeterra here. This deck uses Piltover & Zaun, Noxus Cards and Heimerdinger, Teemo as its champions, it also has 19 Units and 15 Spells. In total thats 7 Common, 3 Rare, 3 Epic and 6 Champions. It will cost 30300 Shards to build this deck.
Import Deck Code: CEBAEAIDBMJQQAIEBAEQUGJRGQ2TQAQCAECAMOQDAEBQ4LBNAA