Legends of Runeterra Ritual of Renewal is a Rare Card from the Ionia Region. It will Cost 7 Mana to use and has 0 Health, 0 Attack and will Heal anything 7. Draw 1. Other Spell Type Cards similar to this one are as follows: Onslaught of Shadows, Shatter, Trueshot Barrage.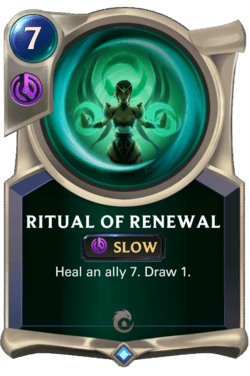 Ritual of Renewal

Ionia

Spell

Rare

Heal anything 7. Draw 1.

Slow: Slow spells can be cast outside of combat and other casting. The enemy can respond.

"Only when the mind is elevated can the body be made whole." - Karma
LoR Ritual of Renewal Deck Builds
Burst Deck Build
This Burst Deck Build is one of the Best LoR Ritual of Renewal Deck Builds, you can find many cards that are good with Ritual of Renewal in Legends of Runeterra here. This deck uses Ionia, Freljord Cards and Karma, Braum as its champions, it also has 8 Units and 24 Spells. In total thats 4 Common, 6 Rare, 2 Epic and 6 Champions. It will cost 29700 Shards to build this deck.