Welcome to our Legends of Runeterra Rising Tides Cards List, here you can view the Best Rising Tides Cards in LoR. Below you will find the Strongest and Rarest Cards from the Rising Tides Expansion Set 2, such as Champions like Twisted Fate, Miss Fortune, and Nautilus. If you are looking for high risk and high reward gameplay, this new set of cards brings a bunch of new card effects into the mix to experiment with.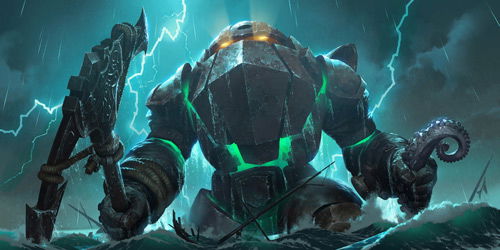 LoR Rising Tides Best Cards
The LoR Rising Tides Best Cards List is seperated by Card Rarity, Champions, Epic, Rare and Common Cards.
Within this region you will find the following Card Effects:
Attune – When I'm summoned, refill 1 spell mana.
Deep – I have +3|+3 once your deck has had 15 or fewer cards left.
Plunder – A card triggers its plunder ability when played if you damaged the enemy Nexus this round.
Scout – The first time only Scout units attack each round, ready your attack.
Toss – Obliterate X non-champion cards from the bottom of your deck.
Vulnerable – The enemy can challenge this unit, forcing it to block.
You can Click/Tap any card you see to view more information such as Bilgewater Deck Builds and other Bilgewater Cards that are good with that specific one.
Rising Tides Champion Cards (Set 2)  

---
Rising Tides Epic Cards (Set 2) 

---
Rising Tides Rare Cards (Set 2) 

---
Rising Tides Common Cards (Set 2) 

Thank you for viewing our Legends of Runeterra Bilgewater Cards List!
You can view other Regions and their Best Cards by Clicking/Tapping the Links below.