Legends of Runeterra Riptide is a Rare Card from the Bilgewater Region. It's part of Rising Tides Expansion cards (Set 2). It will Cost 4 Mana to use and has 0 Health, 0 Attack and will Stun an enemy. Shuffle that unit into the enemy deck if there's an ally Nautilus. Other Spell Type Cards similar to this one are as follows: Culling Strike, Glimpse Beyond, Decisive Maneuver.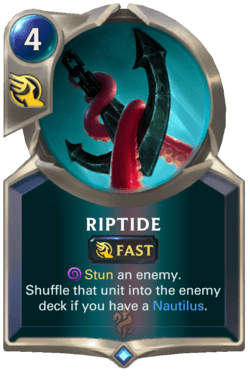 Tap the artwork to see full version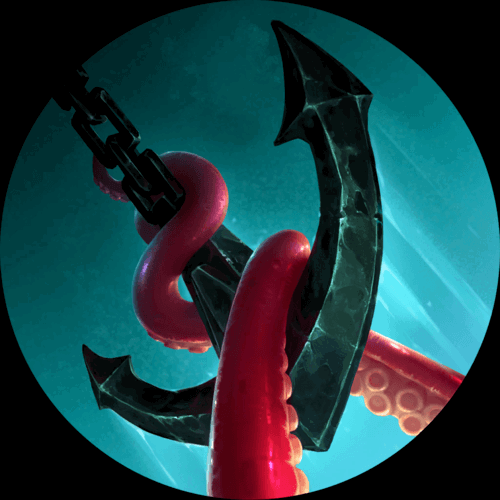 - Kudos Productions
Spell

Riptide

Stun an enemy. Shuffle that unit into the enemy deck if there's an ally Nautilus.

300 Shards to Craft

Rare Wildcard

Fast: Fast spells can be played at any time, but allow the opponent to respond.
Stun: Remove a unit from combat. It can't attack or block for the rest of the round.

"Drag them down..." - Nautilus

Rising Tides (Set 2)
Associated Cards for Riptide.
Unit

Nautilus

When I Level Up, copy Tossed allies that cost 4+ into your deck.

3000 Shards to Craft

Champion Wildcard

Level up when: When you are Deep.
Tough: Takes 1 less damage from all sources.
Fearsome: Can only be blocked by enemies with 3 or more Attack.
Toss: Obliterate X non-champion cards from the bottom of your deck.
Deep: I have +3|+3 once your deck has had 15 or fewer cards left.

"'Twas an anchor what broke the Rancour. Pulled Finn down, an' all. Just a handful of us left now, but night's coming... and the cold. I'm sorry, Ma. You were right. The Titan lives." - Recovered note

Rising Tides (Set 2)
LoR Riptide Deck Builds
Bilgewater Deep Deck Build
This Bilgewater Deep Deck Build is one of the Best LoR Riptide Deck Builds, you can find many cards that are good with Riptide in Legends of Runeterra here. This deck uses Bilgewater, Shadow Isles Cards and Nautilus, Maokai as its champions, it also has 19 Units and 15 Spells. In total thats 4 Common, 5 Rare, 3 Epic and 6 Champions. It will cost 32100 Shards to build this deck.
Import Deck Code: CEBAEAQFBAFAWAQGAELR2HRFE4WC6NJWHAAACAICAUBQ