Legends of Runeterra Riptide Rex is a Epic Card from the Bilgewater Region. It's part of Rising Tides Expansion cards (Set 2). It will Cost 8 Mana to use and has 4 Health, 7 Attack and will Plunder: Cannon Barrage 7 times on random enemies. Other Unit Type Cards similar to this one are as follows: .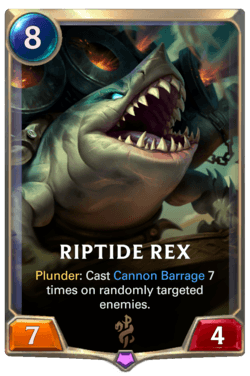 Tap the artwork to see full version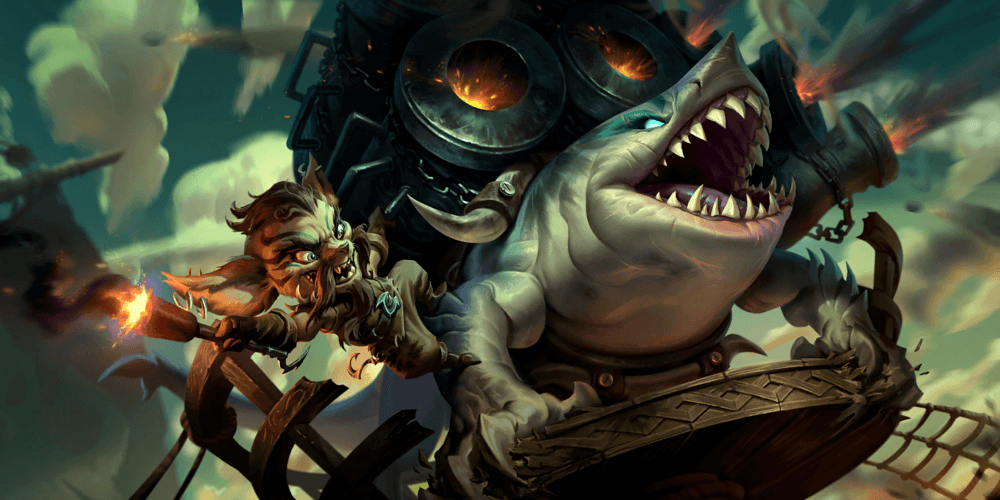 - MAR Studio
Unit

Riptide Rex

Plunder: Cannon Barrage 7 times on random enemies.

1200 Shards to Craft

Epic Wildcard

Plunder: A card triggers its plunder ability when played if you damaged the enemy Nexus this round.

"Sail past the sailors, sail past the wreck, The battle's already over. The smoke's cleared the water, their captain's met Rex, And their ship's ripped an' torn timber." - "Home With You, Sally"

Rising Tides (Set 2)
Associated Cards for Riptide Rex.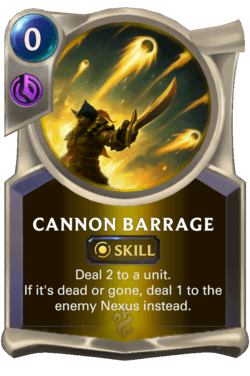 Tap artwork for full version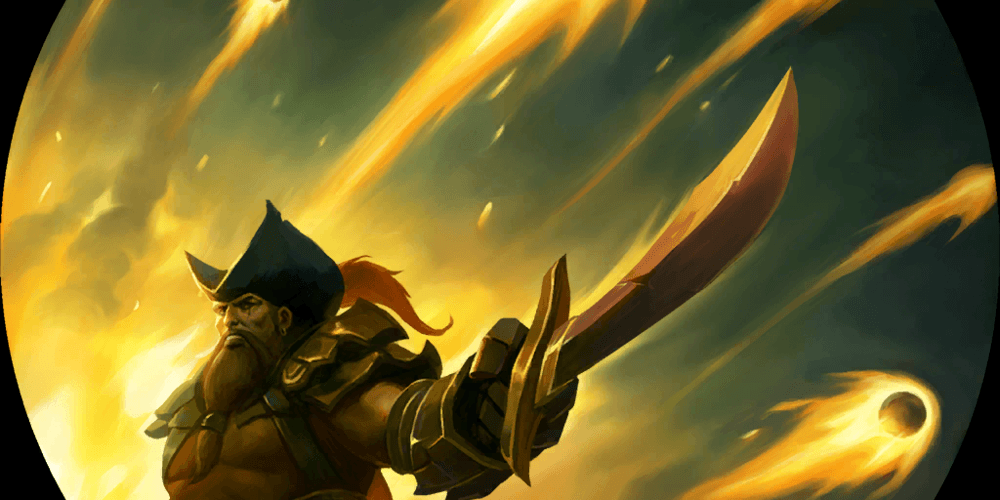 - Kudos Productions
Ability

Cannon Barrage

Deal 2 to a unit. If it's dead or gone, deal 1 to the enemy Nexus instead.

Bilgewater

Card

Skill: A spell-like effect created and cast by unit.

Gangplank's cruelty doesn't end with those who wrong him. To make an enemy of the Saltwater Scourge is to bring death upon everyone you hold dear.

Rising Tides (Set 2)
LoR Riptide Rex Deck Builds
Powder Keg Deck Build
This Powder Keg Deck Build is one of the Best LoR Riptide Rex Deck Builds, you can find many cards that are good with Riptide Rex in Legends of Runeterra here. This deck uses Noxus, Bilgewater Cards and Swain, Gangplank as its champions, it also has 16 Units and 18 Spells. In total thats 7 Common, 4 Rare, 1 Epic and 6 Champions. It will cost 26700 Shards to build this deck.
Import Deck Code: CEBQCAIDGICAEAYDAQDQQBYCAYCAYHBAEEWTCAQBAIDAWAICAMDAA
List of Cards similar to Riptide Rex.
There are no other similiar cards