Legends of Runeterra Poro Cards List of every card using Poro as its Unit Type Currently, there are 7 Cards with this effect, 3 of which are Units and 4 are Spells. By rarity thats 4 Common, 2 Rare, 1 Epic and Champions, majority of which are from the Freljord Region.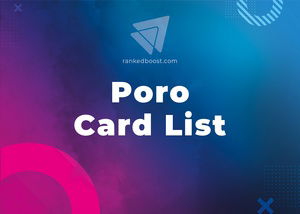 LoR Poro Cards List
LoR Poro Card List Breakdown
 Units 3
 Spells 4
 Common 4
Rare 2
Epic 1
Champion 0
Ionia 0
Shadow Isles 0
Demacia 0
Noxus 0
Freljord 6
Bilgewater 0
Piltover & Zaun 1
Targon 0
Cards with a Poro effect
You can view Card Decks that use Poro Cards with the links below.
You can view other card types below.