Legends of Runeterra Messenger's Sigil is a Rare Card from the Targon Region. It's part of Call of the Mountain Expansion cards (Set 3). It will Cost 1 Mana to use and has 0 Health, 0 Attack and will Shuffle 5 The Messengers into your deck. Other Spell Type Cards similar to this one are as follows: Mobilize, Ghost, Harsh Winds.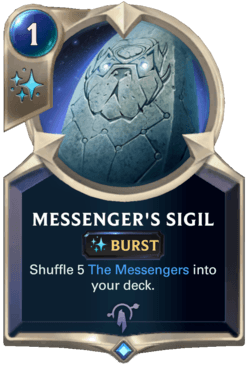 Tap the artwork to see full version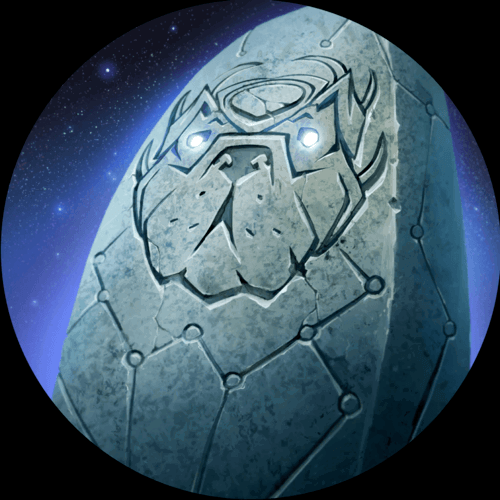 - Max Grecke
Spell

Messenger's Sigil

Shuffle 5 The Messengers into your deck.

300 Shards to Craft

Rare Wildcard

Burst: Burst spells resolve instantly. The enemy can't act before it finishes.

"Time passes, skies turn--the Serpent moves aside and the Messenger takes its place overhead. A season of abundance awaits..." - Lunari Priestess

Call of the Mountain (Set 3)
Associated Cards for Messenger's Sigil.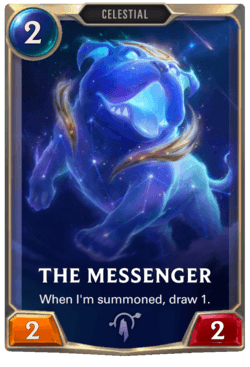 Tap artwork for full version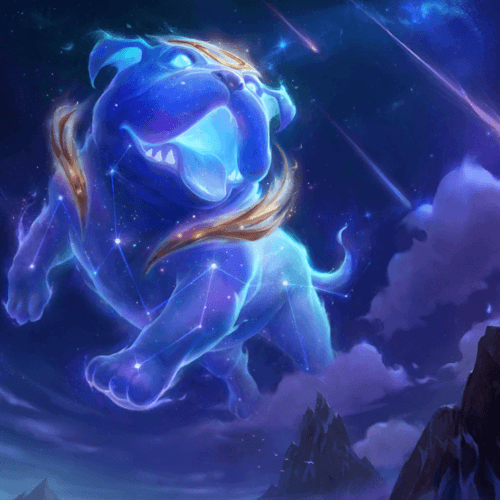 - Kudos Productions
Unit

The Messenger

When I'm summoned, draw 1.

Targon

Card

"As leaves unfurl from barren branches, the Lady of Spring sends her messenger to inform the Lord of Winter of the changing season. The messenger's bark startles the stars into new places in the sky, while his loyal heart warms the land." - Song of the Seasons

Call of the Mountain (Set 3)
LoR Messenger's Sigil Deck Builds
Control Celestial Deck Build
This Control Celestial Deck Build is one of the Best LoR Messenger's Sigil Deck Builds, you can find many cards that are good with Messenger's Sigil in Legends of Runeterra here. This deck uses Targon, Shadow Isles Cards and Aurelion Sol as its champions, it also has 18 Units and 19 Spells. In total thats 6 Common, 6 Rare, 2 Epic and 3 Champions. It will cost 21200 Shards to build this deck.
Import Deck Code: CEAQUAYHB4ODGPB7JRKFMV3AAIBACBIPGYBQGBYRC5KQA