Legends of Runeterra Leona is a Champion Card from the Targon Region. It's part of Call of the Mountain Expansion cards (Set 3). It will Cost 4 Mana to use and has 5 Health, 3 Attack and will Daybreak: Stun the Strongest enemy. Other Unit Type Cards similar to this one are as follows: .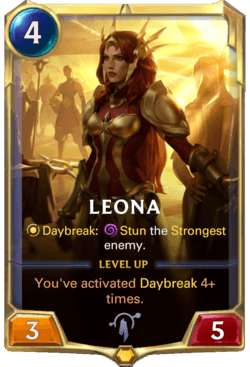 Tap the artwork to see full version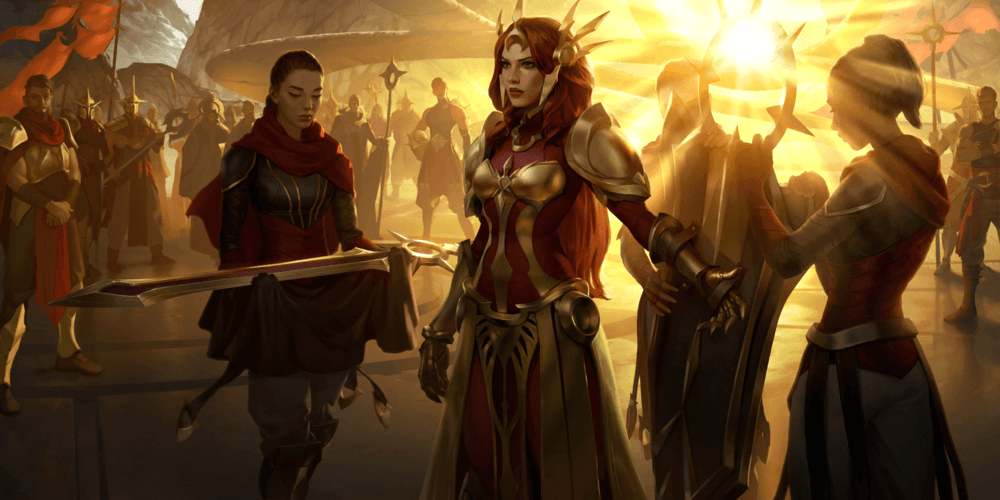 - SIXMOREVODKA
Unit

Leona

Daybreak: Stun the Strongest enemy.

3000 Shards to Craft

Champion Wildcard

Level up when: You've activated Daybreak 4+ times.
Stun: Remove a unit from combat. It can't attack or block for the rest of the round.
Daybreak: Bonus if this is the FIRST card you play in a round.

She stood amidst them as she prepared for battle--radiating light, bedecked in crimson and gold, her eyes like embers. As the rising sun crowned her head in light, each Solari present lowered their eyes, not in shame, but in deference to their shining leader.

Call of the Mountain (Set 3)
Associated Cards for Leona.