Legends of Runeterra Kindly Tavernkeeper is a Common Card from the Freljord Region. It will Cost 3 Mana to use and has 3 Health, 2 Attack and will Play: Heal anything 3. Other Unit Type Cards similar to this one are as follows: .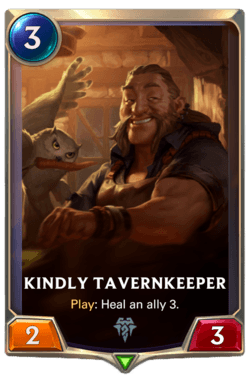 Kindly Tavernkeeper

Freljord

Unit

Common

Play: Heal anything 3.

"This fine old establishment's the Tipsy Owl! We've got stews and brews a'plenty to chase away the chill. Hurry on inside!"
LoR Kindly Tavernkeeper Deck Builds
Agrro Burst Deck Build
This Agrro Burst Deck Build is one of the Best LoR Kindly Tavernkeeper Deck Builds, you can find many cards that are good with Kindly Tavernkeeper in Legends of Runeterra here. This deck uses Noxus, Freljord Cards and Vladimir, Braum as its champions, it also has 16 Units and 18 Spells. In total thats 7 Common, 5 Rare, 0 Epic and 6 Champions. It will cost 24400 Shards to build this deck.
Import Deck Code: CEBAKAIBBEKCGLJOBAAQGBAFAYIRMIBLGQAACAIBAEZA