Legends of Runeterra Jagged Taskmaster is a Epic Card from the Bilgewater Region. It's part of Rising Tides Expansion cards (Set 2). It will Cost 3 Mana to use and has 3 Health, 4 Attack and will Plunder: Grant 1 cost allies everywhere +1|+0. Other Unit Type Cards similar to this one are as follows: .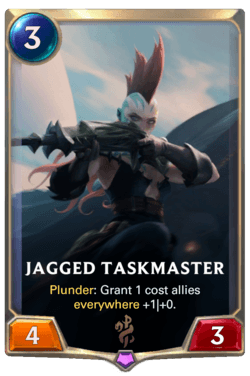 Tap the artwork to see full version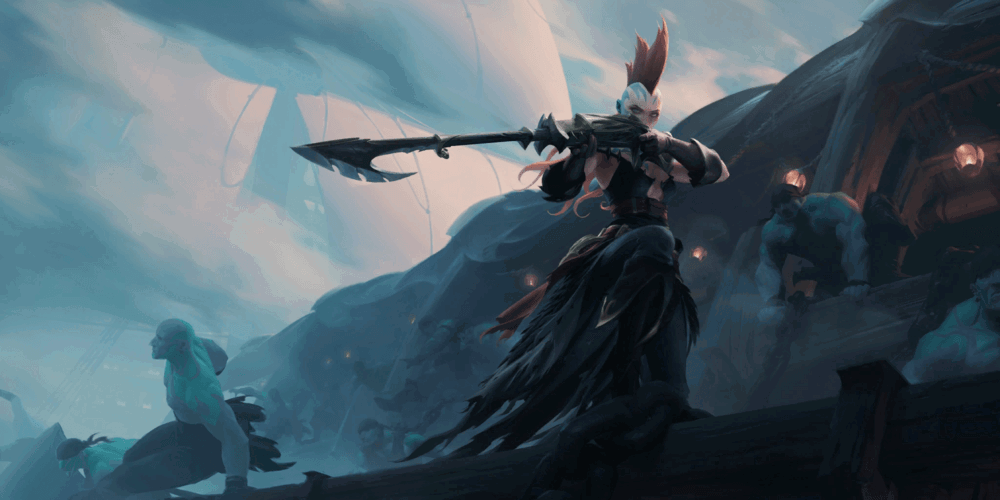 - JiHun Lee
Unit

Jagged Taskmaster

Plunder: Grant 1 cost allies everywhere +1|+0.

1200 Shards to Craft

Epic Wildcard

Plunder: A card triggers its plunder ability when played if you damaged the enemy Nexus this round.

Once she fires, the Hooks have to move fast. Blood in the water brings all manner of company... and none of it is welcome.

Rising Tides (Set 2)
LoR Jagged Taskmaster Deck Builds
Poro Plunder Deck Build
This Poro Plunder Deck Build is one of the Best LoR Jagged Taskmaster Deck Builds, you can find many cards that are good with Jagged Taskmaster in Legends of Runeterra here. This deck uses Freljord, Bilgewater Cards and Braum as its champions, it also has 22 Units and 15 Spells. In total thats 6 Common, 4 Rare, 3 Epic and 3 Champions. It will cost 22800 Shards to build this deck.
Import Deck Code: CEBQCAQBAMCQEBQKCQMDOPQHAEAQQCIQDEPCWNIAAEAQEBRG
List of Cards similar to Jagged Taskmaster.
There are no other similiar cards