Legends of Runeterra Jagged Butcher is a Common Card from the Bilgewater Region. It's part of Rising Tides Expansion cards (Set 2). It will Cost 1 Mana to use and has 2 Health, 2 Attack and will Plunder: Grant me +1|+1. Other Unit Type Cards similar to this one are as follows: .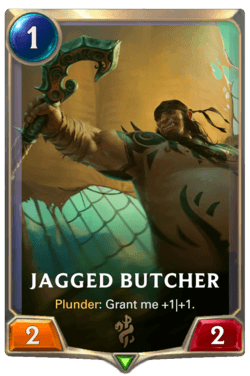 Tap the artwork to see full version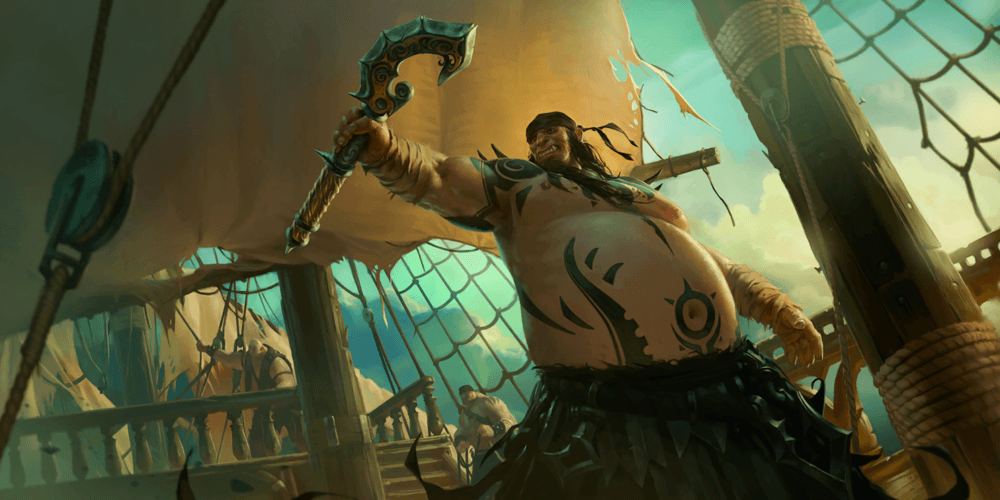 - Slawomir Maniak
Unit

Jagged Butcher

Plunder: Grant me +1|+1.

100 Shards to Craft

Common Wildcard

Plunder: A card triggers its plunder ability when played if you damaged the enemy Nexus this round.

Entry into the Jagged Hooks is a bloody affair. Sailors must prove they know their way around a ship, a fight, and a butcher's block. The most unsavory candidates hit all three marks in a single scrap.

Rising Tides (Set 2)
LoR Jagged Butcher Deck Builds
Mid Range Bilgewater Deck Build
This Mid Range Bilgewater Deck Build is one of the Best LoR Jagged Butcher Deck Builds, you can find many cards that are good with Jagged Butcher in Legends of Runeterra here. This deck uses Demacia, Bilgewater Cards and Quinn, Miss Fortune as its champions, it also has 27 Units and 7 Spells. In total thats 6 Common, 5 Rare, 1 Epic and 6 Champions. It will cost 27300 Shards to build this deck.
Import Deck Code: CEBQIAQGCULDUPQEAIAAGBQJBICQCAAJCUOSKKYAAEAQCABJ
List of Cards similar to Jagged Butcher.
There are no other similiar cards