Legends of Runeterra Jae Medarda is a Epic Card from the Piltover & Zaun Region. It will Cost 8 Mana to use and has 6 Health, 6 Attack and will When I'm targeted, draw 1. Other Unit Type Cards similar to this one are as follows: Kinkou Lifeblade, Navori Conspirator, Daring Poro.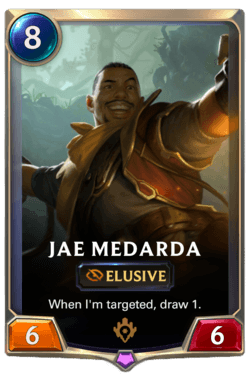 Jae Medarda

Piltover & Zaun

Unit

Epic

When I'm targeted, draw 1.

Elusive: Can only be blocked by an Elusive unit.

Heir apparent to Piltover's prestigious Clan Medarda, Jae preferred hunting ancient artifacts over managing the family business... much to his father's chagrin.
LoR Jae Medarda Deck Builds
Deck build coming soon, you can browse our other builds here: