Legends of Runeterra House Spider is a Common Card from the Noxus Region. It will Cost 2 Mana to use and has 2 Health, 2 Attack and will When I'm summoned, summon a Spiderling. Other Unit Type Cards similar to this one are as follows: .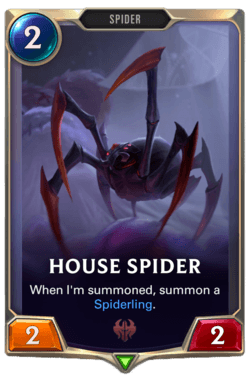 House Spider

Noxus

Unit

Common

When I'm summoned, summon a Spiderling.

"My spiders love company. Shame that company never feels the same." - Elise

Spider
Associated Cards for House Spider.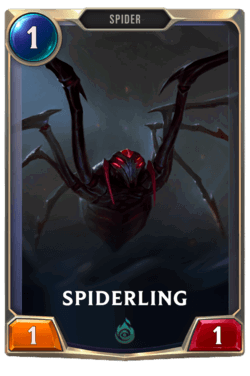 Spiderling

Shadow Isles

Unit

"What are you afraid of? It's just ONE little spider." - Lord Sassen, Hapless Aristocrat

Spider
LoR House Spider Deck Builds
Spider Zoo Deck Build
This Spider Zoo Deck Build is one of the Best LoR House Spider Deck Builds, you can find many cards that are good with House Spider in Legends of Runeterra here. This deck uses Shadow Isles, Noxus Cards and Elise as its champions, it also has 19 Units and 18 Spells. In total thats 9 Common, 6 Rare, 0 Epic and 3 Champions. It will cost 15700 Shards to build this deck.
Import Deck Code: CEBAGAIDC4XDOBIBAURCOMRVHABAIAIFDMUCWMIEAEBQIDYWFMAA
List of Cards similar to House Spider.
There are no other similiar cards