Legends of Runeterra Guile is a Common Card from the Noxus Region. It will Cost 1 Mana to use and has 0 Health, 0 Attack and will Stun an enemy. Other Spell Type Cards similar to this one are as follows: Onslaught of Shadows, Shatter, Trueshot Barrage.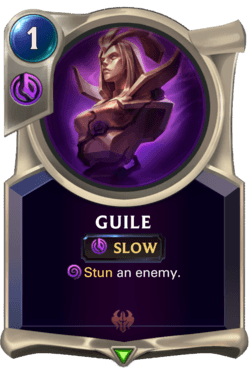 Guile

Noxus

Spell

Common

Stun an enemy.

Slow: Slow spells can be cast outside of combat and other casting. The enemy can respond.

"Allow your enemies enough rope to hang themselves and you'll save yourself the effort." - LeBlanc
LoR Guile Deck Builds
Stun Deck Build
This Stun Deck Build is one of the Best LoR Guile Deck Builds, you can find many cards that are good with Guile in Legends of Runeterra here. This deck uses Ionia, Noxus Cards and Yasuo as its champions, it also has 20 Units and 17 Spells. In total thats 7 Common, 5 Rare, 2 Epic and 3 Champions. It will cost 19900 Shards to build this deck.
Import Deck Code: CEBAKAIDBIHS4MJWAYAQEAQIB4QTCOACAEAQEJACAEBQIKYBAEAQGNI