Legends of Runeterra Fleetfeather Tracker is a Common Card from the Demacia Region. It will Cost 1 Mana to use and has 1 Health, 2 Attack and will Other Unit Type Cards similar to this one are as follows: Braum, Swiftwing Lancer, Rimefang Wolf.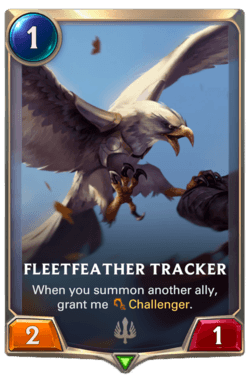 Fleetfeather Tracker

Demacia

Unit

Common

Challenger: Can choose which enemy unit blocks.

These relatives of the silverwing raptors have the predatory instincts of their cousins alongside a dogged unfamiliarity with their own comparatively diminutive size.
LoR Fleetfeather Tracker Deck Builds
Challenger Barrier Deck Build
This Challenger Barrier Deck Build is one of the Best LoR Fleetfeather Tracker Deck Builds, you can find many cards that are good with Fleetfeather Tracker in Legends of Runeterra here. This deck uses Ionia, Demacia Cards and Shen, Fiora as its champions, it also has 18 Units and 16 Spells. In total thats 7 Common, 3 Rare, 2 Epic and 6 Champions. It will cost 27600 Shards to build this deck.
Import Deck Code: CEBAMAICCMQCKKZQG4DQCAAJDIOSAJJNGUAACAIBAADQ