Legends of Runeterra Feral Mystic is a Common Card from the Freljord Region. It will Cost 2 Mana to use and has 2 Health, 2 Attack and will Enlightened: I have +4|+4. Other Unit Type Cards similar to this one are as follows: Darius, Crowd Favorite, Avarosan Outriders.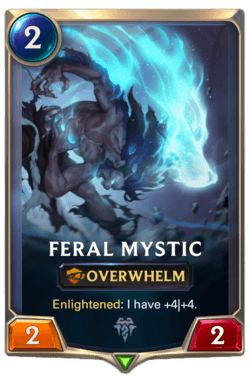 Feral Mystic

Freljord

Unit

Common

Enlightened: I have +4|+4.

Overwhelm: Inflicts damage beyond what would kill the target(s) to the enemy Nexus.

"Those who learn to roar as beasts soon forget their native tongue." - Anivia
LoR Feral Mystic Deck Builds
Challenger Burst Deck Build
This Challenger Burst Deck Build is one of the Best LoR Feral Mystic Deck Builds, you can find many cards that are good with Feral Mystic in Legends of Runeterra here. This deck uses Ionia, Freljord Cards and Karma, Ashe as its champions, it also has 19 Units and 15 Spells. In total thats 7 Common, 8 Rare, 2 Epic and 6 Champions. It will cost 27700 Shards to build this deck.
Import Deck Code: CEBACAICFECQCAIMBYJCCJQCAEAQEHYIAEAQCEYUEAXTAMZYAIAQCAIXAMAQEAIEGY