Legends of Runeterra En Garde is a Rare Card from the Demacia Region. It will Cost 3 Mana to use and has 0 Health, 0 Attack and will Give allies Challenger this round. Other Spell Type Cards similar to this one are as follows: Mobilize, Iceborn Legacy, Ghost.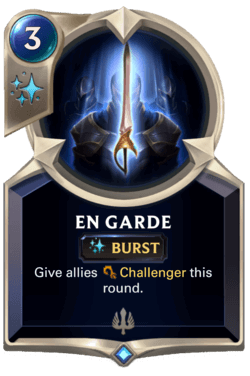 En Garde

Demacia

Spell

Rare

Give allies Challenger this round.

Burst: Burst spells resolve instantly. The enemy can't act before it finishes.

"There's not a Demacian alive who would refuse a Laurent's lesson in swordsmanship. Or survived one, for that matter." - Fiora
LoR En Garde Deck Builds
Poro Deck Build
This Poro Deck Build is one of the Best LoR En Garde Deck Builds, you can find many cards that are good with En Garde in Legends of Runeterra here. This deck uses Freljord, Demacia Cards and Braum as its champions, it also has 20 Units and 17 Spells. In total thats 9 Common, 9 Rare, 2 Epic and 3 Champions. It will cost 18300 Shards to build this deck.
Import Deck Code: CEAQQAIBAEEASEAZEEVTKAQBAEAQMAQBAADBWAQDAEAQKIRZA4AQABYNDIWDCMRT