Legends of Runeterra Ember Maiden is a Rare Card from the Freljord Region. It's part of Rising Tides Expansion cards (Set 2). It will Cost 3 Mana to use and has 2 Health, 3 Attack and will Round Start: Deal 1 to EVERYTHING. Other Unit Type Cards similar to this one are as follows: .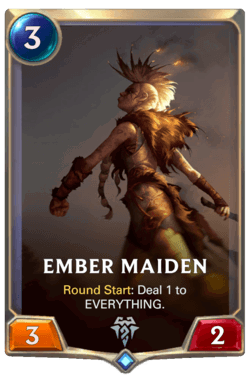 Tap the artwork to see full version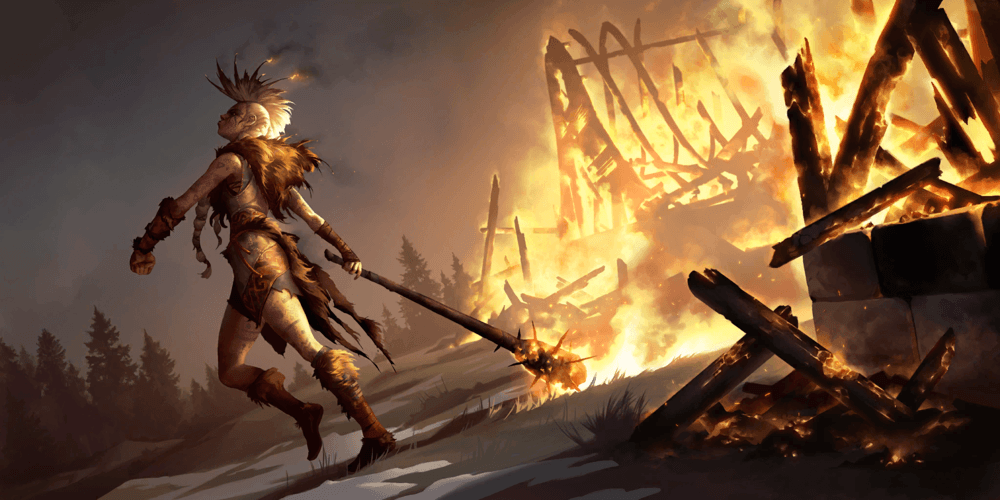 - SIXMOREVODKA
Unit

Ember Maiden

Round Start: Deal 1 to EVERYTHING.

300 Shards to Craft

Rare Wildcard

"They will till their fruitful fields, They will weakly sow their seeds. We will set 'most all aflame, Winter's Claw takes what it please!" - a Winter's Claw children's rhyme

Rising Tides (Set 2)
LoR Ember Maiden Deck Builds
Sejuani Ramp Deck Build
This Sejuani Ramp Deck Build is one of the Best LoR Ember Maiden Deck Builds, you can find many cards that are good with Ember Maiden in Legends of Runeterra here. This deck uses Freljord, Shadow Isles Cards and Tryndamere, Sejuani, Thresh as its champions, it also has 17 Units and 17 Spells. In total thats 6 Common, 5 Rare, 3 Epic and 6 Champions. It will cost 30400 Shards to build this deck.
Import Deck Code: CEBQEAIBBQUQIAIFFA2DMNYEAIAQCBQJBIBACAIBCQBAEAICBABAEAIBC4TQEAIFAEMQ
List of Cards similar to Ember Maiden.
There are no other similiar cards