Legends of Runeterra Deadbloom Wanderer is a Common Card from the Shadow Isles Region. It's part of Rising Tides Expansion cards (Set 2). It will Cost 3 Mana to use and has 2 Health, 3 Attack and will When I'm summoned, Toss 3. Other Unit Type Cards similar to this one are as follows: Kinkou Lifeblade, Emerald Awakener, Darkwater Scourge.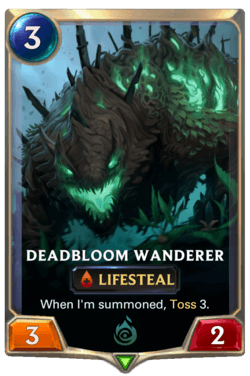 Tap the artwork to see full version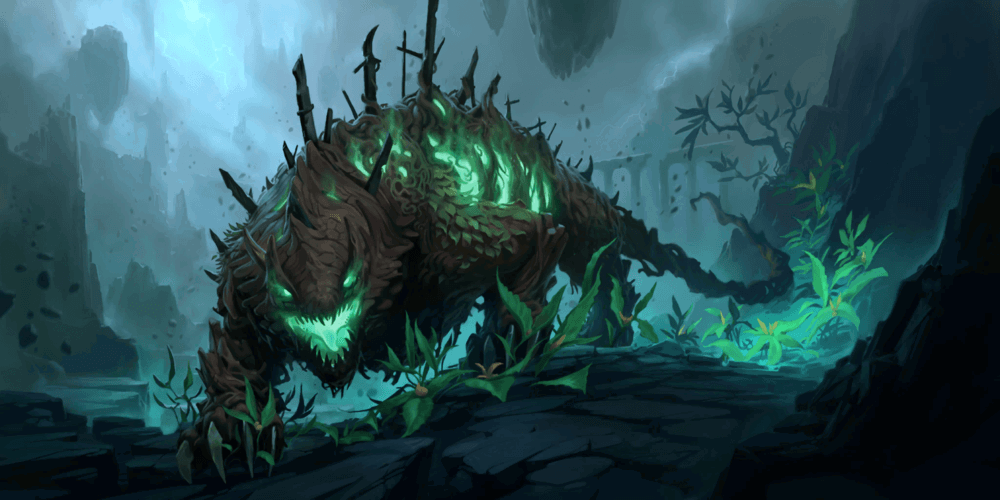 - Slawomir Maniak
Unit

Deadbloom Wanderer

When I'm summoned, Toss 3.

100 Shards to Craft

Common Wildcard

Lifesteal: Damage this unit deals heals its Nexus that amount.
Toss: Obliterate X non-champion cards from the bottom of your deck.

"The great treant has continued showing... creatures. This one... to spread life as she wanders... remarkable such... here. These are Blessed Isles indeed!" - Recovered journal

Rising Tides (Set 2)
LoR Deadbloom Wanderer Deck Builds
Bilgewater Deep Deck Build
This Bilgewater Deep Deck Build is one of the Best LoR Deadbloom Wanderer Deck Builds, you can find many cards that are good with Deadbloom Wanderer in Legends of Runeterra here. This deck uses Bilgewater, Shadow Isles Cards and Nautilus, Maokai as its champions, it also has 19 Units and 15 Spells. In total thats 4 Common, 5 Rare, 3 Epic and 6 Champions. It will cost 32100 Shards to build this deck.
Import Deck Code: CEBAEAQFBAFAWAQGAELR2HRFE4WC6NJWHAAACAICAUBQ