Legends of Runeterra Clump of Whumps is a Common Card from the Piltover & Zaun Region. It will Cost 2 Mana to use and has 2 Health, 2 Attack and will When I'm summoned, create a Mushroom Cloud in hand. Other Unit Type Cards similar to this one are as follows: .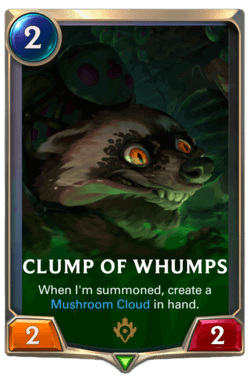 Clump of Whumps

Piltover & Zaun

Unit

Common

When I'm summoned, create a Mushroom Cloud in hand.

"Mhm, that's right! Clumps of 'em, sneakin' around! They SEEM crazy, but you just don't see. Not like me! They've big plans! Big plans. Puffcaps. Cheese... sorbet. Where was I?" - Puffcap Peddler
Associated Cards for Clump of Whumps.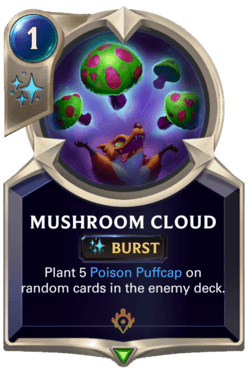 Mushroom Cloud

Piltover & Zaun

Spell

Common

Plant 5 Poison Puffcap on random cards in the enemy deck.

Burst: Burst spells resolve instantly. The enemy can't act before it finishes.

First is the soft thump as the puffcap pops. Next, searing, debilitating pain. Finally, the distant sound of giggles...
LoR Clump of Whumps Deck Builds
Poison Puffcap Deck Build
This Poison Puffcap Deck Build is one of the Best LoR Clump of Whumps Deck Builds, you can find many cards that are good with Clump of Whumps in Legends of Runeterra here. This deck uses Piltover & Zaun Cards and Ezreal, Teemo as its champions, it also has 12 Units and 22 Spells. In total thats 5 Common, 5 Rare, 2 Epic and 6 Champions. It will cost 30600 Shards to build this deck.
Import Deck Code: CEAQ2AIEAECAQCQZDYPSILRRGQ2TUAABAEAQIBI
List of Cards similar to Clump of Whumps.
There are no other similiar cards