Legends of Runterra Bull Elnuk is a Common Card from the Freljord Region. It will Cost 4 Mana to use and has 5 Health, 4 Attack and will Other Unit Type Cards similar to this one are as follows: .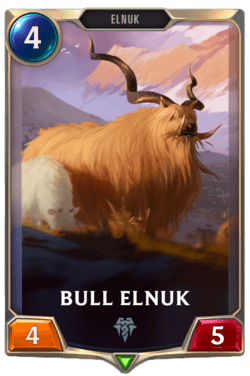 Bull Elnuk

Freljord

Unit

Common

Avarosan folk tales speak of "Old Uncle Elnuk", a stubborn old grouch who wanted nothing more than a warm patch of grass and an argument to dig his heel into.

Elnuk
LoR Bull Elnuk Deck Builds
Elnuk Deck Build
This Elnuk Deck Build is one of the Best LoR Bull Elnuk Deck Builds, you can find many cards that are good with Bull Elnuk in Legends of Runeterra here. This deck uses Freljord, Piltover & Zaun Cards and Anivia, Braum as its champions, it also has 18 Units and 14 Spells. 9 of which are common, 2 Rare, 0 Epic and 5 Champions. It will cost 26050 Shards to build this deck.
List of Cards similar to Bull Elnuk.
There are no other similiar cards