Welcome to our Legends of Runeterra Best Cards Tier List, here we have ranked the Weakest and Strongest Cards in LoR based on their Effects. Depending on the preferred meta playstyle certain effects will be ranked higher as they provide value to decks builds such as Control, Aggro, Ramp, Zoo and more.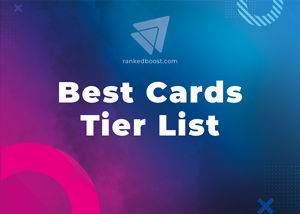 Before we jump into the Tier List, lets explain how we view each rank within this list.
S Tier – (Best) Highest ranking cards in our LoR Tier List.
A Tier – (Strong) Very strong card types, but not as powerful as S Tier Choices.
B Tier – (Good) Solid Choice and can be viable in the right matchup.
C Tier – (Average) The middle of the pack neither good nor bad.
D Tier – (Below Average) Slightly on the weaker side of an average pick.
E Tier – (Weak) Underpowered choice and wouldn't recommend unless you enjoy the playstyle.
F Tier – (Worst) The lowest ranking characters in this Legends of Runeterra Tier List.
LoR Best Cards Tier List rankings based on card types, such as Challenger, Barrier, Lifesteal, etc. Depending on the meta certain cards will be more valuable then others as core cards use in different deck builds, cards that have Stun, Frostbite and even Recall effects are excellent choices in Control Decks. Cards with Elusive, Quick Attack, etc are mostly used in Aggro Decks, this is due to the nature of the effect making them very usefull for that specific playstyle. Below you can Click/Tap any icon of the Card Types to view Deck Builds their effects.
You can view other Best Deck Build Playstyles by Clicking/Tapping the Links below.
You can view other Regions and their Best Deck Builds by Clicking/Tapping the Links below.