Legends of Runterra Arachnoid Sentry is a Common Card from the Noxus Region. It will Cost 3 Mana to use and has 2 Health, 3 Attack and will Play: Stun an enemy. Other Unit Type Cards similar to this one are as follows: .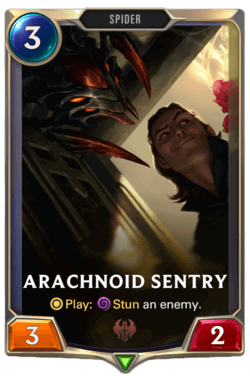 Arachnoid Sentry

Noxus

Unit

Common

Play: Stun an enemy.

"Oh, how she captivates me! Her endless legs, voice of paralyzing sweetness, and eyes red as the rose. To think, she chose to dine with me tonight!" - Hapless Aristocrat

Spider
Associated Cards for Arachnoid Sentry.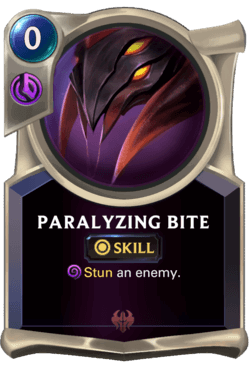 Paralyzing Bite

Noxus

Ability

Stun an enemy.

Skill: A spell-like effect created and cast by unit.

It was not the kiss he had in mind.
LoR Arachnoid Sentry Deck Builds
Stun Deck Build
This Stun Deck Build is one of the Best LoR Arachnoid Sentry Deck Builds, you can find many cards that are good with Arachnoid Sentry in Legends of Runeterra here. This deck uses Ionia, Noxus Cards and Yasuo as its champions, it also has 20 Units and 17 Spells. 7 of which are common, 5 Rare, 2 Epic and 3 Champions. It will cost 26450 Shards to build this deck.