Legends of Runeterra Ancient Crocolith is a Rare Card from the Shadow Isles Region. It will Cost 4 Mana to use and has 7 Health, 7 Attack and will To play me, kill 2 allies. Other Unit Type Cards similar to this one are as follows: .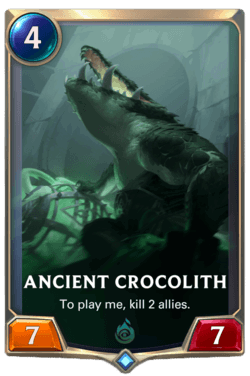 Ancient Crocolith

Shadow Isles

Unit

Rare

To play me, kill 2 allies.

"Put 'em in the cage, tum-te-dum... Pluck up every soul, one by one... Never let 'em go, no! No sir… Else them spirits make quite a stir..."
LoR Ancient Crocolith Deck Builds
Last Breath Deck Build
This Last Breath Deck Build is one of the Best LoR Ancient Crocolith Deck Builds, you can find many cards that are good with Ancient Crocolith in Legends of Runeterra here. This deck uses Shadow Isles, Noxus Cards and Thresh, Katarina, Kalista as its champions, it also has 18 Units and 16 Spells. In total thats 7 Common, 5 Rare, 2 Epic and 6 Champions. It will cost 27800 Shards to build this deck.
Import Deck Code: CEAQQAIFAUFSEKJNFYYDCAQBAEBSUBQBAUPCALZUHE5ACAQBAUHRY
List of Cards similar to Ancient Crocolith.
There are no other similiar cards