Legends of Runeterra Affectionate Poro is a Common Card from the Noxus Region. It will Cost 1 Mana to use and has 1 Health, 1 Attack and will Other Unit Type Cards similar to this one are as follows: Braum, Swiftwing Lancer, Rimefang Wolf.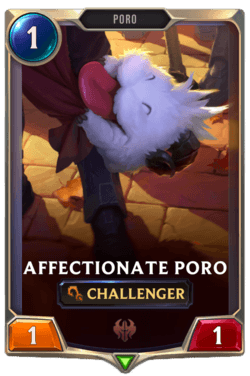 Affectionate Poro

Noxus

Unit

Common

Challenger: Can choose which enemy unit blocks.

"Noxus has no room for... for weakn--Will someone get this DAMNED THING OFF ME?!" - Darius

Poro
LoR Affectionate Poro Deck Builds
Deck build coming soon ..