Welcome to our League of Legends Teamfight Tactics Rounds Guide, in between fighting other players champions you will every so often fight different types of minions and enter carrousels. Below we show you what to expect to better help you prepare for this fights.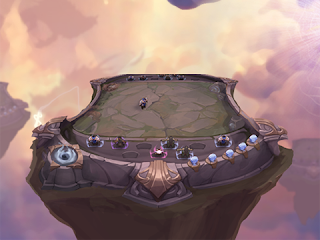 Teamfight Tactics Rounds List
The Teamfight Tactics Rounds List Guide will show you what to expect from future rounds and this will help you prepare. Carrousels allow player depending on how well they are doing a chance to obtain a Champion with Items, these are important as they help players who are doing so well that game.
The Number 0 indicates the Round which you can near the top of your screen in game.
0 |  Carrousel
1 |  2x Melee Minion
2 |  2x Melee  and 1x Ranged Minion
3 |  2x Melee  and 2x Ranged Minion
6 |  Carrousel
9 |  3x Krugs
12 |  Carrousel
15 |  4x Murk Wolf and 1x Greater Murk Wolf
18 |  Carrousel
21 |  4x Raptor and 1 Crimson Raptor
24 |  Carrousel
27 |  1x Dragon
30 |  Carrousel
33 |  2x Mech Cannon and 4x Mech Melee Minion
36 |  Carrousel
39 |  1x Rift Herald
42 |  Carrousel
45 |  1x Elder Dragon
You can view more League of Legends Teamfight Tactics Guides by Clicking/Tapping the links below.