Home > League of Legends > Build > Top Lane
Top Lane Champion Item builds, Masteries & Runes for the TOP 3 Best Top Lane Champion in LoL this Patch. Updated every Patch, using a Top Lane Tier List to improve accuracy. We have also included Champion Skill Order builds so you will know what Spells to Level Up. Playing these Top Lane Champion with these Builds, will give you the best shot at winning your Solo Queue Games.
[snippet top-3-top-lane-build-video]
Top Lane Item Build
The top lane guide can be a complicated one, with so many different ways a top lane build path can go. If you are new to the top lane role you should focus on surviving top lane or at least trying not to die to the enemy top lane champion (Tank Champions are Recommended).
Top lane is known for being isolated from the rest of the map, This can be good if you are winning your lane opponent. It can also be bad If you are getting camped by the enemy Jungle. Being behind in top lane is a worst case scenario. Your team mates will not always be able to roam up to top lane to help, since it so out of the way and can put them at risk to lose there lane if they try and help you in your lane.
As a Top Lane Champion in team fights your team mates will rely on you to be there front line, you will not be able to do that if you lack the gold to buy the proper top lane item build you need. So always remember to build accordingly and be the top lane your team deserves.
Top Lane Item Build
In this Top Lane Guide the "Strong Against" Icons indicate when a Top Lane Item Build choice is effective versus a certain type of champion. For Example: Spirit Visage is "Strong Against" AP Champions due to the magic resist stats and unique passive for healing AP damage.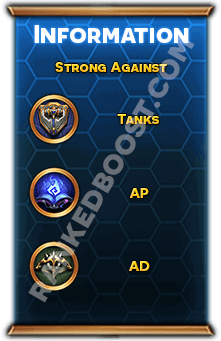 TOP 3 TOP LANE BUILDS is a top lane guide of the Best LoL Top Lane Champions for the Solo Queue/Dynamic Queue Ranked Mode.
Top 3 Top Lane Build Paths worth mentioning due to one of the following:
Champion

 

Buffs

Item Buffs 

(directly buffing the champion within the meta)

Re

worked

New Champions
Meta Change
TOP 3
Top Lane Build
Champion Item Build Guides for some of the Best Top Lane Champions in League of Legends. In This TOP 3 Top Lane Builds you will have everything you need to play and build a Strong Top Lane Champion. In the top lane there are 3 champion types that are currently viable. Tanks are among the best in terms of Top Lane Item Builds and champion meta, while the other 2 which are AP and Carry champions tend to work in lower elos. Tanks are super effective thanks to the huge amount of item choices available. Spirit Visage, Frozen Heart if you want to be super tanky top lane build. Maw Malmortius, Steraks Gage if you want some damage on your tanks.
You can Unlock all the Top Lane Build Guides and more using the Elo Booster Tier List



| | |
| --- | --- |
| | Earn Season Rewards in Ranked 3v3 & 5v5 Flex Queue Fast and Easily. |
| Have A Pro Player Play For You And Earn Rewards Fast. | |
| | Duo Queue With A Pro Player And Rank Up In Dynamic Queue. |
Top Lane Guide
These Top Lane Champions have fallen out of the TOP 3 but still have a strong place in the Top Lane Meta.

A fairly strong lane phase with a Overpowering Team Fight Ult that Slows while doing tons of AOE damage. The difficulty with this top lane champion is playing around his Steam Mechanic and being careful not to OverHeat unless necessary. This champion is also host to a unique top lane item build, Tanky AP with the ability to melt down other tanks.
Difficult champion to play in Solo Queue/Dynamic Queue, Gnar is takes a lot of practice and rage management. If you are able to master this champion he can be a monster in Team Fights. Once one of the best top lane guide champions, however due to difficulty no longer has a high place within the meta.
Mordkaiser Cons are that he lacks Hard CC and a Tanky Top Lane Build. Having no Hard CC as a Top Lane champion makes it difficult to fulfill your role as a top lane carry. Mordkaiser has some pros as well, for instance being able to Ult the dragon and once killed will turn into mordekaiser's minion.
A solid top lane champion pick with easily underestimated Ult Shield strength. Perfect for a protect the AD Carry team comp or if you simply need more of a front line team fight presence. Fairly simple top lane build with a big impact globally on the map.

Weak Lane Phase but a strong Team Fight, Catch 4-5 enemy champion in a good Malphite Ult and you almost guarantee to win the Team Fight. A Strong Pick if your objective is to One Shot the enemy ADC, with some great top lane item build paths.
Darius is very good at punishing enemy champions, if darius gets kills in lane phase he will transitions well into team fights with his Ult. However he does have weakness and that weakness is Kite/Peel anything that can CC darius so he cant catch enemy champions. Garen also happens to suffer from this same weakness, both having similar top lane item build paths.

Difficult champion to play and even more difficult to master, Gangplank is a strong pick into any bruiser that is melee only. Barrels are the name of the game with Gangplank, Master his explosive cask spell (E) to utilize Gangplanks full damage. Excellent Carry champion due to his full Damage/Crit top lane build.

You think feeding Darius is bad, then you haven't been in a game with a fed Fiora. If she gets going in lane she will out duel (1v1) any Top Lane champion in League of Legends. This can be a big problem if the enemy team has some strong CC Champions.

Super strong lane bully, with a amazing early to mid game. Since the introduction of the new Bruiser Items such as Titanic and Deadman Plate has helped Renekton top lane build scale into late-game. A recommended pick for anyone new to top lane role.

Long time best champion pick in this top lane guide, Riven is very rewarding to players who invest some serious time into playing this champion. High risk and high reward play-style very similar to yasuo.

Difficult champion to play with a high skill cap, getting fed as this champion you can walk all over the enemy's AD Carry. Best part is no amount of CC can stop you from going ham while your Ult is Active. One of the most "Cheese" Top Lane Guide champions available in the meta.

This champion is just so strong and useful that he has made his way to top lane with great success. A excellent Top Lane Guide champion to spam in Solo Queue/Dynamic Queue or if the right team comp arises.
Tryndamere is well known for being a easy top lane guide champion to pick up and play. Couple of Crit Strike Items and 2-4 Swings of that huge sword should chop down anyone in your path.

Not as popular as some of the other top lane champions, Still a contender for one of the strongest top lane guide champions. Wukong is most known for his Team Fight Ult as it can swing a team fight into your teams favor.

Possibly the best top lane guide champion for any player, super easy to play with a strong lane phase versus other melee bruisers. Garen should be a top lane champion all players play and at least once.
Garen Build
is a easy one to follow and can do a lot of damage if you are versing the right enemy champions.