Home > League of Legends > Build > Top Lane
Top Lane Champion Item builds, Masteries & Runes for the TOP 3 Best Top Lane Champion in LoL this Patch. Updated every Patch, using a Top Lane Tier List to improve accuracy. We have also included Champion Skill Order builds so you will know what Spells to Level Up. Playing these Top Lane Champion with these Builds, will give you the best shot at winning your Solo Queue Games.
[snippet top-3-top-lane-build-video]
Top Lane Item Build
The top lane guide can be a complicated one, with so many different ways a top lane build path can go. If you are new to the top lane role you should focus on surviving top lane or at least trying not to die to the enemy top lane champion (Tank Champions are Recommended).
Top lane is known for being isolated from the rest of the map, This can be good if you are winning your lane opponent. It can also be bad If you are getting camped by the enemy Jungle. Being behind in top lane is a worst case scenario. Your team mates will not always be able to roam up to top lane to help, since it so out of the way and can put them at risk to lose there lane if they try and help you in your lane.
As a Top Lane Champion in team fights your team mates will rely on you to be there front line, you will not be able to do that if you lack the gold to buy the proper top lane item build you need. So always remember to build accordingly and be the top lane your team deserves.
Top Lane Item Build
In this Top Lane Guide the "Strong Against" Icons indicate when a Top Lane Item Build choice is effective versus a certain type of champion. For Example: Spirit Visage is "Strong Against" AP Champions due to the magic resist stats and unique passive for healing AP damage.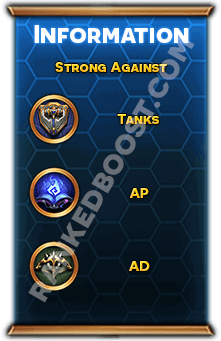 TOP 3 TOP LANE BUILDS is a top lane guide of the Best LoL Top Lane Champions for the Solo Queue/Dynamic Queue Ranked Mode.
Top 3 Top Lane Build Paths worth mentioning due to one of the following:
Champion

 

Buffs

Item Buffs 

(directly buffing the champion within the meta)

Re

worked

New Champions
Meta Change
TOP 3
Top Lane Build
Champion Item Build Guides for some of the Best Top Lane Champions in League of Legends. In This TOP 3 Top Lane Builds you will have everything you need to play and build a Strong Top Lane Champion. In the top lane there are 3 champion types that are currently viable. Tanks are among the best in terms of Top Lane Item Builds and champion meta, while the other 2 which are AP and Carry champions tend to work in lower elos. Tanks are super effective thanks to the huge amount of item choices available. Spirit Visage, Frozen Heart if you want to be super tanky top lane build. Maw Malmortius, Steraks Gage if you want some damage on your tanks.
You can Unlock all the Top Lane Build Guides and more using the Elo Booster Tier List
| | |
| --- | --- |
| | Earn Season Rewards in Ranked 3v3 & 5v5 Flex Queue Fast and Easily. |
| Have A Pro Player Play For You And Earn Rewards Fast. | |
| | Duo Queue With A Pro Player And Rank Up In Dynamic Queue. |
Top Lane Guide
These Top Lane Champions have fallen out of the TOP 3 but still have a strong place in the Top Lane Meta.
[masterslider id="ms-6-6-1-1-7-1-7-1″]