Home > League of Legends > Build > ADC
ADC Item build paths, Mastery's and Runes pages for the TOP 3 AD Carry Champions in this LoL Patch Meta.  A In-depth Look at the strongest AD Carry Champions within our very own ADC Tier List. Skill Orders Guides included to help you with learning how to play the best ADC in League of Legends.
[snippet top-3-adc-build-video]
ADC Item Build
ADC/AD Carry is one of the most important Roles in League of Legends, The ADC will do the most Consistent Damage Per Second out of all the other Roles. If your ADC is unable to Farm CS, in turn he/she will be unable to buy the Items needed for his/her ADC build to do Damage. Traits of a good ADC players are how well that Player Positions them self's in Team Fights so that they can do the most Damage possible. As well as how that player changes there adc item build path depending on the enemy team champions and or item builds.
 ADC Item Build
This ADC Guide uses "Strong Against" Icons to indicate when a ADC Item Build is a effective choices versus certain champions. For example: Lord Dominik's Regards has a passive amount of percentage armor penetration and a unique passive that does more damage based on the targets health points.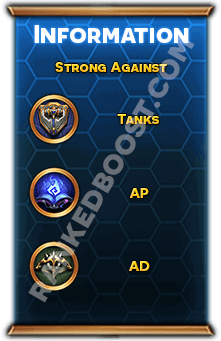 TOP 3 ADC BUILDS is a ADC guide of the Best LoL ADC Champions for the Solo Queue/Dynamic Queue Ranked Mode.
Top 3 ADC Build Paths worth mentioning due to one of the following:
Champion

 

Buffs

Item Buffs 

(directly buffing the champion within the meta)

Re

worked

New Champions
Meta Change
TOP 3
ADC Build
The difference between a ADC Build that Does Damage and one that Does Not can be as simple as one item. ADC Item Build is a fairly Simple, however in some cases a ADC may need to buy more Armor Pen Items such as Lord Dominiks Regards and Black Clever. Other times a Maw of Malmortius and Mercurials Scimitar is need versus high Damage AP Carrys.



ADC Guide
Its always a close battle for the TOP 3 AD Carrys champions. however there will always be a few that stand out, while the rest just don't quite make the cut. These are those champions that very strong but not the best within this adc guide.

Strong Late Game with the fast wave clear for a ADC champion. Her ult giving her team the mobility to gain the edge in team fights or perhaps to catch a out of position champion. there's still counter play available with champions who have a strong lane phase vs. sivir and high mobility assassins. Also Champions with strong ADC build paths for dueling like lucian do really well versus sivir.

Tristana has a decent early game laning phase, However Trist is all about the late game adc build path. the longer a game last the higher chance you have of wining that game with Tristana.

This ADC Champion has one the most effective late games, that's if you can get to that point within the game. Her ult has synergy with all in tanky support being able to save there life at the last second. Kalista Late Game adc item build with a hurricane more then makes up for her fairly weak early laning phase.

Jinx is very easy to play threw lane phase, so i doubt players will stop playing her. She also happens to possess a stronger late game adc item build then most ADC's in team fights if you can avoid being picked off.

The best AD Carry champion in terms of Utility, Ult Global Stuns to setup kills. A Global Vision spell (E) and i fairly strong late game so she isn't completely useless as a Damage Dealer.
So mordekaiser ADC that's a thing and it was at one point very broken if played correctly and with a Support. This probably didn't last long since RIOT nerfed Mordkaiser. Rest in peace one of the funniest adc build path every to grace the rift.

A long time strong ADC champion, Lots of burst damage with close to half of it being Magic Damage. A Passive that shreds tanks making corki a strong all around AD Carry. Hybrid adc build paths tend to cross between AD and Magic damage items, for corki it would be up to the player.
A surprisingly strong adc champion versus Bruiser assassins champions, one of the few AD Carrys that can avoid being one shot. Kennen Stun allows for some of the cleanest and easy damage exchanges in bottom lane. If ever in danger Press R Spam Autos and throw a W in there and that should keep you alive long enough to E away or auto the enemy to death.

A highly favored ADC Champion pick, with a strong late and early game. Best known for his synergy with Braum and his Passive making a very fun and effective Bot Lane duo pick. One of the few adc build paths that make use of many different and Strong items.

Kindred has a strong early game with a level 6 that is possibly some of the best utility on a ADC Champion. however fall behind on this champion and its all over so be careful not to fall behind on CS.

One of the strongest AOE Ults on a AD Carry in the game, Great mobility with her passive making her a good roaming ADC. Similar adc build path to lucian, however with way more team fight pressure thanks to her AOE Ult.

Vayne is on the rise and will continue to see higher Win Rates so long as the meta stays in favor of Tanky champions and Riot continues to nerf Tanks. It conjointly helps that Vayne is incredibly Hyper Carry late game with a adc build path of a BOTRK combo-ed together with her W she is able to melt Tanks in no time.
| | |
| --- | --- |
| | Earn Season Rewards in Ranked 3v3 & 5v5 Flex Queue Fast and Easily. |
| Have A Pro Player Play For You And Earn Rewards Fast. | |
| | Duo Queue With A Pro Player And Rank Up In Dynamic Queue. |