Home > League of Legends > Build > ADC
ADC Item build paths, Mastery's and Runes pages for the TOP 3 AD Carry Champions in this LoL Patch Meta.  A In-depth Look at the strongest AD Carry Champions within our very own ADC Tier List. Skill Orders Guides included to help you with learning how to play the best ADC in League of Legends.
[snippet top-3-adc-build-video]
ADC Item Build
ADC/AD Carry is one of the most important Roles in League of Legends, The ADC will do the most Consistent Damage Per Second out of all the other Roles. If your ADC is unable to Farm CS, in turn he/she will be unable to buy the Items needed for his/her ADC build to do Damage. Traits of a good ADC players are how well that Player Positions them self's in Team Fights so that they can do the most Damage possible. As well as how that player changes there adc item build path depending on the enemy team champions and or item builds.
 ADC Item Build
This ADC Guide uses "Strong Against" Icons to indicate when a ADC Item Build is a effective choices versus certain champions. For example: Lord Dominik's Regards has a passive amount of percentage armor penetration and a unique passive that does more damage based on the targets health points.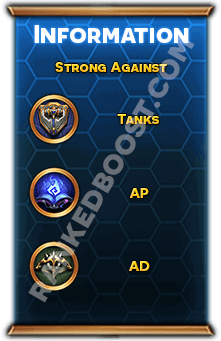 TOP 3 ADC BUILDS is a ADC guide of the Best LoL ADC Champions for the Solo Queue/Dynamic Queue Ranked Mode.
Top 3 ADC Build Paths worth mentioning due to one of the following:
Champion

 

Buffs

Item Buffs 

(directly buffing the champion within the meta)

Re

worked

New Champions
Meta Change
TOP 3
ADC Build
The difference between a ADC Build that Does Damage and one that Does Not can be as simple as one item. ADC Item Build is a fairly Simple, however in some cases a ADC may need to buy more Armor Pen Items such as Lord Dominiks Regards and Black Clever. Other times a Maw of Malmortius and Mercurials Scimitar is need versus high Damage AP Carrys.
[masterslider alias="ms-6-3″]
ADC Guide
Its always a close battle for the TOP 3 AD Carrys champions. however there will always be a few that stand out, while the rest just don't quite make the cut. These are those champions that very strong but not the best within this adc guide.
[masterslider alias="ms-6-6-1-1-7-1-7-2-8″]