League of Legends Wild Rift Tryndamere is a Skirmisher Champion commonly played in the Baron Lane. When playing this Fighter in the Solo Lane, we rank it as a A-Tier pick. Tryndamere will mostly do Physical Damage and can deal a lot of damage. Based on playstyle, we consider this champion Easy To Play.





Quickly navigate this Tryndamere guide using the links above.
LoL Wild Rift Tryndamere Runes
What runes should I use with Tryndamere in Wild Rift?
The Best Runes for Tryndamere in Wild Rift is the

Conqueror Keystone, followed by the

Hunter Vampirism,

Spirit Walker, and

Hunter Genius Minor Runes.

Baron Lane Tryndamere Runes Build
(Top Lane)
Keystone Rune and Minor Runes
Summoner Spells


LoL Wild Rift Tryndamere Item Builds
What items do I build on Tryndamere in Wild Rift?
The Best Items to build on Tryndamere in Wild Rift are bursty bruiser items, building to easily win exchanges against any opponent. The first item to build should be

Trinity Force, and then second, you will want to complete your

Gluttonous Greaves with a

Teleport Enchant and to finish up your Core Item Build will be a

Infinity Edge.
LoL Wild Rift Tryndamere Guide
What skills do I level up as Tryndamere in Wild Rift?
Level up

Bloodlust at level 1, and then you will continue leveling

Bloodlust until its maxed. After that, you can start leveling up

Spinning Slash followed by

Mocking Shout.
Tryndamere Skill Order

1
›

2
›

3
Tryndamere Abilities in Wild Rift
Battle Fury

Passive

Gains 0.16% Critical Strike Chance for each point of Fury, doubled at maximum fury.Gains 5 Fury with every attack, 10 from critical strikes and 10 from kills. Loses 5 fury per second after Tyndamere has been out of combat for 8 seconds.

Bloodlust

1st Ability

Passive: Gains 5 Attack Damage plus an additional 0.2 Attack Damage per 1% of missing health.Active: Consumes all Fury to heal for 40 (40+ 30% magic damage) plus 0.5 (0.5+ 1.2% magic damage) per point of Fury consumed.

Cooldown: 12s

Mocking Shout

2nd Ability

Reduces nearby enemy champions Attack Damage by 25% for 2.5 seconds. If target is moving away from Tryndamere, slow them by 30%.

Cooldown: 14s

Spinning Slash

3rd Ability

Dashes, dealing 80 physical damage (80+ 130% bonus attack damage + 100% magic damage). Critical Strikes reduce the cooldown of Spinning Slash by 1 second, doubled against champions.Gains 2 fury for each enemy hit.

Cooldown: 12s

Undying Rage

4th Ability

Becomes unkillable for 5 seconds and gains 50 Fury.

Cooldown: 100s.
What role do i play Tryndamere?
The most popular role to play Tryndamere is in the Baron Lane or Jungle, this is mostly due to the champion being a Fighter with Physical Damage.
How good is Tryndamere in Wild Rift?
Tryndamere is ranked A-Tier, which we consider a good pick for ranking up in ranked queue in the Baron Lane. If you want to learn about this champion's weaknesses, you can view our Tryndamere Champion Counters guide.
LoL Wild Rift Tryndamere Skins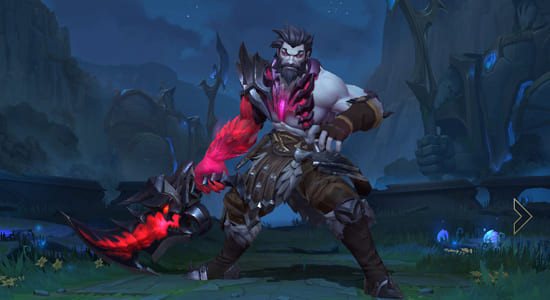 Demonblade Tryndamere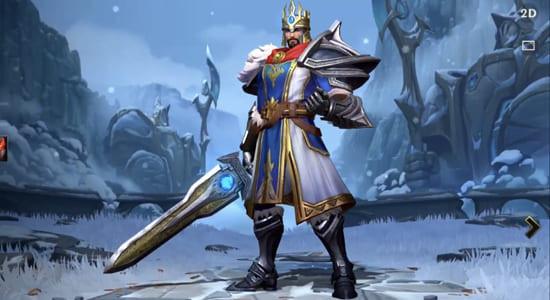 King Tryndamere
Click/Tap the icons below to view other Baron Lane Champions
Champions Similar To Tryndamere in Wild Rift

Camille

Darius

Dr. Mundo

Fiora

Garen

Jax

Malphite

Nasus

Singed