League of Legends Wild Rift Soraka is a Enchanter Champion commonly played in the Dragon Lane as Support. When playing this Support in the Dragon Lane, we rank it as a A-Tier pick. Soraka will mostly do Magic Damage and is an overall reliable choice. Based on playstyle, we consider this champion Easy To Play.





Quickly navigate this Soraka guide using the links above.
LoL Wild Rift Soraka Runes
What runes should I use with Soraka in Wild Rift?
The Best Runes for Soraka in Wild Rift is the

Summon Aery Keystone, followed by the

Triumph,

Loyalty, and

Pack Hunter Minor Runes.

Support Soraka Runes Build
(Dragon Lane)
Keystone Rune and Minor Runes
Summoner Spells


LoL Wild Rift Soraka Item Builds
What items do I build on Soraka in Wild Rift?
The Best Items to build on Soraka in Wild Rift are support items to enable your dragon lane carry, either through shielding, healing or simiply providing peel. The first item to build should be

Protector's Vow, and then second, you will want to complete your

Ionian Boots of Lucidity with a

Redeeming Enchant and to finish up your Core Item Build will be a

Ardent Censer.
LoL Wild Rift Soraka Guide
What skills do I level up as Soraka in Wild Rift?
Level up

Astral Infusion at level 1, and then you will continue leveling

Astral Infusion until its maxed. After that, you can start leveling up

Starcall followed by

Equinox.
Soraka Skill Order

1
›

2
›

3
Soraka Abilities in Wild Rift
Salvation

Passive

Soraka gains 70% Movement Speed when moving toward allied champions below 35% Health.

Starcall

1st Ability

Calls a star, dealing 60 magic damage (60+40% Magic) and slowing by 30% for 2 seconds, if an enemy champion is hit. Soraka gains Rejuvenation, healing for 8(8 + 5% Magic Damage) over 4 seconds.After healing an ally champion 3 times, Starcall is empowered to deal 40% damage in a larger area.

Mana: 45

Cooldown: 7.5s

Astral Infusion

2nd Ability

Heals another allied champion for 80 (80+70%). If Soraka has Rejuvenation, the ally gains Rejuvenation for 4 seconds.

Mana: 55

Cooldown: 8s

Equinox

3rd Ability

Create a zone that deals 70 magic damage (70+40% Magic Damage) and silences enemies. The zone expires after1.5 seconds dealing 70 magic damage (70 + 40% Magic Damage) and rooting for 1 seconds.

Mana Cost: 70

Cooldown: 22s

Wish

4th Ability

Heals all allied champions for 150 (150+40% magic damage), increased by 50 % if the ally is below 35% health.

Mana Cost: 100

Cooldown: 100s
What role do i play Soraka?
The most popular role to play Soraka is in the Dragon Lane as Support, this is mostly due to the champion being a Support with Magic Damage.
How good is Soraka in Wild Rift?
Soraka is ranked A-Tier, which we consider a good pick for ranking up in ranked queue in the Dragon Lane as Support. If you want to learn about this champion's weaknesses, you can view our Soraka Champion Counters guide.
LoL Wild Rift Soraka Skins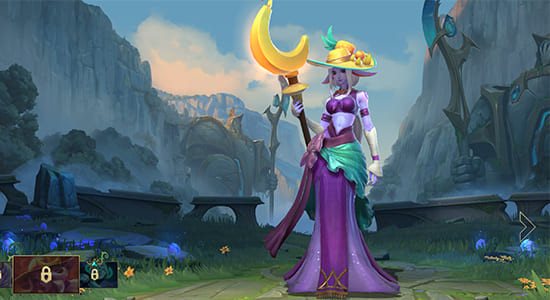 Order Of The Banana Soraka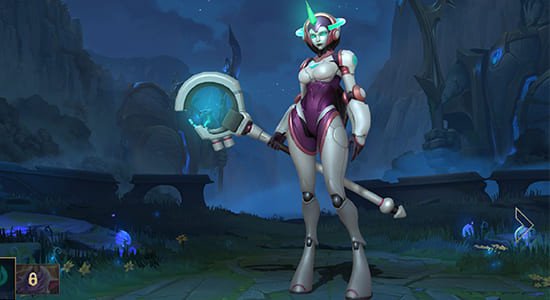 Program Soraka
Click/Tap the icons below to view other Dragon Lane Support Champions
Champions Similar To Soraka in Wild Rift

Alistar

Blitzcrank

Braum

Janna

Nami

Seraphine

Sona