League of Legends Wild Rift Jinx is a Marksman Champion commonly played in the Dragon Lane as Carry. When playing this Marksman in the Dragon Lane, we rank it as a S-Tier pick. Jinx will mostly do Physical Damage and can deal a lot of damage. Based on playstyle, we consider this champion Moderately Diffcult To Play.





Quickly navigate this Jinx guide using the links above.
LoL Wild Rift Jinx Runes
What runes should I use with Jinx in Wild Rift?
The Best Runes for Jinx in Wild Rift is the

Fleet Footwork Keystone, followed by the

Brutal,

Regeneration, and

Manaflow Band Minor Runes.

ADC Jinx Runes Build
(Dragon Lane)
Keystone Rune and Minor Runes
Summoner Spells


LoL Wild Rift Jinx Item Builds
What items do I build on Jinx in Wild Rift?
The Best Items to build on Jinx in Wild Rift are all attack damage, Marksmen are almost always built with full damage items. The first item to build should be

Infinity Edge, and then second, you will want to complete your

Gluttonous Greaves with a

Quicksilver Enchant and to finish up your Core Item Build will be a

Runaan's Hurricane.
LoL Wild Rift Jinx Guide
What skills do I level up as Jinx in Wild Rift?
Level up

Switcheroo! at level 1, and then you will continue leveling

Switcheroo! until its maxed. After that, you can start leveling up

Zap! followed by

Flame Chompers!.
Jinx Skill Order

1
›

2
›

3
Jinx Abilities in Wild Rift
Get Excited

Passive

Scoring a takedown on a champion or structure that Jinx has damaged within the last 3 seconds grants her 150%, decaying Movement Speed and 15% Total Attack Speed for 6 seconds.

Switcheroo

1st Ability

Swaps weapon -Fisbones The Rocket launcher: Attacks cost Mana but gain 75 range and explode to deal 110% damage to the target and enemies around it.Pow-Pow, the Minigun: Attacks grant bonus Attack Speed for 3 seconds. This effect stacks up to 3 times for a total bonus of 30%.

Mana: 30

Cooldown: 1s

Zap

2nd Ability

Fires a shock blasts that deals 103 physical damage (10 + 160% attack damage) to the first enemy hit, granting vision of it and slowing it by 30% for 2 seconds.

Mana: 50

Cooldown: 8s

Flame Chompers

3rd Ability

Tosses out three chompers that arm after a brief delay. Chompers explode on contact with enemy champions, interrupting their dashes and rooting them for 1.3 seconds. Enemies hit by the explosion take 70 magic damage (70 + 100% magic damage).

Super Mega Death Rocket

4th Ability

Fires a mega-rocket that gains damage and speed over the first second it travels. The rocket explodes on the first enemy champion hit, dealing 25 to 250 physical damage (25 +15% bonus attack damage to 250 + 150% bonus attack damage) plus 25% of their missing health. Nearby enemies take 80% damage.
What role do i play Jinx?
The most popular role to play Jinx is in the Dragon Lane as Carry, this is mostly due to the champion being a Marksman with Physical Damage.
How good is Jinx in Wild Rift?
Jinx is ranked S-Tier, which we consider the most reliable picks for ranked queue in the Dragon Lane as Carry. If you want to learn about this champion's weaknesses, you can view our Jinx Champion Counters guide.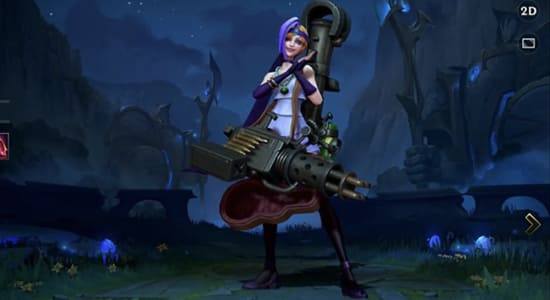 Crime City Jinx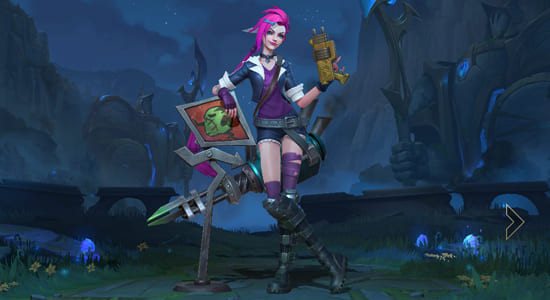 Zombie Slayer Jinx
Click/Tap the icons below to view other Dragon Lane Carry Champions
Champions Similar To Jinx in Wild Rift

Ashe

Draven

Ezreal

Jhin

Kai'Sa

Miss Fortune

Varus

Vayne