Welcome to our Kingdom Hearts 3 Gummi Ship Guide, we will explain the different types of Gummi Block Ship Modification and the stats they will increase.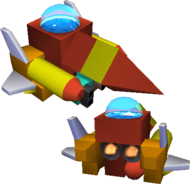 Kingdom Hearts 3 Gummi Ship
Below is a list of all the stats for your Kingdom Hearts 3 Gummi Ship and how they will affect it since this will be how you travel from world to world it's important to be aware of these Stats, Weaponry and more.
Gummi Ship Stats and what they affect.
HP – The number of Hit Points. (Armor)
Offense – Indicates the amount of Offensive Weaponry on a Ship
Power – The amount of Damage the Weaponry can do.
Mobility – Faster Movement and Better Turns/Spins.
Speed – The speed at which the ship can travel through the course.
How To Get Gummi Ship Weaponry and Modifications
There are multiple ways to unlock weaponry such as Fire, Thunder, Blizzard and Gravity Lasers. below we list all the know ways to unlock new modifications for your ship.
Found – You will unlock powerful Gummi Blocks just by progressing through the game
Gummi Missions – Completing these special missions and reaching a high score will reward you with Blocks, Gummi Ship Abilities and in some case rare ships.
Want to view other Kingdom Hearts 3 Guides? Tap any of the links below to view other content in the game.