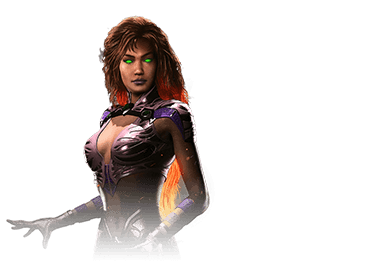 Starfire
"THIS PRINCESS FIGHTS HER OWN BATTLES."
Injustice 2 Starfire Base Stats
| | | |
| --- | --- | --- |
| Strength | 1100 | |
| Ability | 1050 | |
| Defense | 950 | |
| Health | 1000 | |
As the next Queen of Tamaran, Princess Koriand'r found herself the victim of her fratricidal sister's vengeful plot that resulted in their planet being conquered. Now a royal exile on Earth, Koriand'r uses her ability to absorb and convert ultraviolet energy as Starfire.
Welcome to our Injustice 2 Starfire Gear Build Guide, Below we will list the best gear to use on Starfire we also have this characters Base Stats, Moves list, and Abilities below.
Jump to
Starfire Moves and Combos
These Moves are combo button sequences unique to this character's skill set. These will often provide Mobility, Burst Damage, Air Juggle and Crowd Control Effects.
Starfire Abilities and Powers
Injustice 2 Starfire Gear Build
The Best Gear Stats To Build on this Character. Head/Cape, Torso, Gauntlets, Greaves and Accessory Equipment.
Starfire Costumes and Skins
Below You Can View List of Each Characters Injustice 2 Gear Builds, Stats, Moves, Character Powers and Abilities by Clicking their Image or Name Link.
Character Select
This Page is being updated frequently