Welcome to our Injustice 2 Skins List, here you can view every skin including the premier skins for all the characters. If you are unsure the difference between them skin type we explain what changes will happen to your character.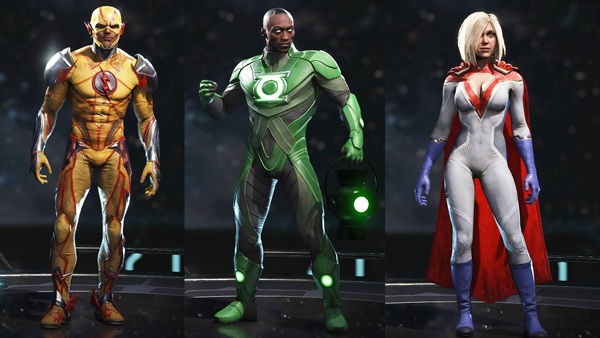 What are Premier Skins?
The premier skin type will change the appearance and the voice dialogue of the character.
Injustice 2 Premier Skins
How To Unlock Injustice 2 Premier Skins Guide
Using Source crystals players can unlock premiere skins, except one that will require players link up their mobile account. Source Crystals are a special type of currency unrelated to credits and are obtained way more rarely. You will need a total of 6000 Crystals to begin purchasing some 1 of these premier skins.
Skin
Description
How to Unlock
Powergirl (Supergirl)

DLC Skin
Included in Digital Deluxe and Ultimate Edition or
purchase for 6,000 Source Crystals
Reverse Flash (The Flash)

DLC Skin
Included in Ultimate Edition or
purchase for 6,000 Source Crystals
Jay Garrick Flash (The Flash)

Special Injustice 2 Premier Skin
Purchased for ??? Source Crystals
Green Lantern John Stewart (Green Lantern)

DLC Skin
Included in Ultimate Edition or
purchase for 6,000 Source Crystals
Mr. Freeze (Captain Cold)

Special Injustice 2 Premier Skin
Purchased for 6,000 Source Crystals or
Obtained in a Multiverse Mode Event.
Grid (Cyborg)

Special Injustice 2 Premier Skin
Unlocked by linking your Injustice 2 Mobile Game account with your Injustice 2 PS4 game.
Vixen (Cheetah)

Special Premier Skin
Purchased for 6,000 Source Crystals.
Gods Shader
Exclusive DLC shader pack
Included in Digital Deluxe and Ultimate Edition
Demons Shader
Exclusive DLC shader pack
Included in Ultimate Edition
(As more information is released about Premiere Skins, this page will be updated regularly.)
[CharacterSelectInjustice2]