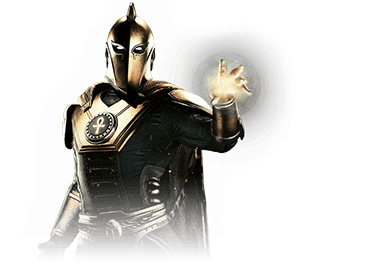 Dr Fate
"WHAT COMES NEXT, MERE MORTALS CANNOT STOP."
Injustice 2 Dr Fate Base Stats
| | | |
| --- | --- | --- |
| Strength | 1100 | |
| Ability | 1050 | |
| Defense | 950 | |
| Health | 1000 | |
Powerful sorcerer Kent Nelson wears the Helm of Fate and sees the fate of all mankind, for better or worse. He knows the world will end -- either by Brainiac's hand, or in a war between Batman and Superman. Though the Helm compels Kent to preserve this grim fate for the sake of Order, Kent's humanity compels him to intervene on behalf of his heroic friends -- and risk the unforeseeable consequences.
Welcome to our Injustice 2 Dr Fate Gear Build Guide, Below we will list the best gear to use on Dr Fate we also have this characters Base Stats, Moves list, and Abilities below.
Jump to
These Moves are combo button sequences unique to this character's skill set. These will often provide Mobility, Burst Damage, Air Juggle and Crowd Control Effects.
Dr Fate Abilities and Powers
Injustice 2 Dr Fate Gear Build
The Best Gear Stats To Build on this Character. Head/Cape, Torso, Gauntlets, Greaves and Accessory Equipment.
Dr Fate Costumes and Skins
Below You Can View List of Each Characters Injustice 2 Gear Builds, Stats, Moves, Character Powers and Abilities by Clicking their Image or Name Link.
Character Select
This Page is being updated frequently