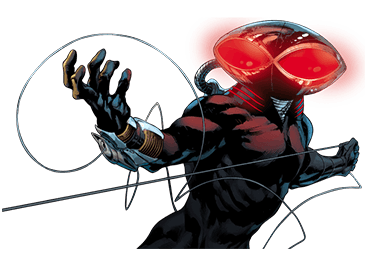 Black Manta
"IT'S THIS SIMPLE, IS IT? I CAN JUST WATCH YOU DIE... AND THEN I REST"
Injustice 2 Black Manta Base Stats
| | | |
| --- | --- | --- |
| Strength | 1100 | |
| Ability | 1050 | |
| Defense | 950 | |
| Health | 1000 | |
Black Manta is one of Aquaman's greatest villains. His lethal high-tech suit allows him to survive underwater and adapt to any number of situations with an arsenal of destructive weaponry. Despite his prominence, Manta remains an enigmatic figure, his identity and his origins kept secret. The motivation for his villainy is a deep-seated hatred for the sea due to strong emotional reasons, and a personal vendetta against Aquaman.
Welcome to our Injustice 2 Black Manta Gear Build Guide, Below we will list the best gear to use on Black Manta we also have this characters Base Stats, Moves list, and Abilities below.
Jump to
Black Manta Moves and Combos
These Moves are combo button sequences unique to this character's skill set. These will often provide Mobility, Burst Damage, Air Juggle and Crowd Control Effects.
Black Manta Abilities and Powers
Injustice 2 Black Manta Gear Build
The Best Gear Stats To Build on this Character. Head/Cape, Torso, Gauntlets, Greaves and Accessory Equipment.
Black Manta Costumes and Skins
Below You Can View List of Each Characters Injustice 2 Gear Builds, Stats, Moves, Character Powers and Abilities by Clicking their Image or Name Link.
Character Select
This Page is being updated frequently