Welcome to our Hyper Scape Hacks List, here we will explain what each Hack Ability does and their Cooldowns, Durations, Base Damage, and other useful information. Before we jump into the list, it's important to note that each ability can be upgraded four times, and each one will affect the Cooldown and, in some cases, the base damage of Hacks.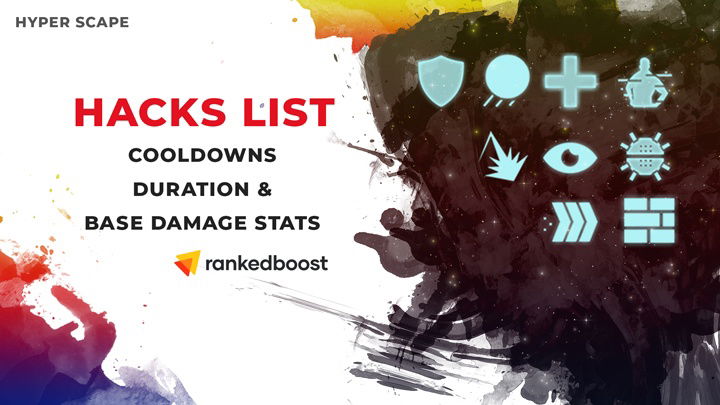 Hyper Scape Hacks List of Stats
In Hyper Scape, players can loot Special Abilities to aid them in battle, and these will come in a variety of flavors. Depending on your playstyle, there is an ability for everyone; if you like being sneaky, then Invisibility might be your thing. Maybe you prefer supporting your friends; you might find abilities such as Heal and even Wall more useful, it's up to you to decide what you want to prioritize in Hyper Scape Battle Royal.
Numbers separated by / indicate the different cooldowns and other stat values based on Hack Upgrade Level.
Example: Base/1st/2nd/3rd/4th
Hack
What It Does

Armor
Negate ALL damage while active, also you cannot shoot, ads or use any other ability while the Armor Hack is active.
Duration: 8 Seconds
Cooldown: 12/11/10/9/7

Ball
Turn yourself into a bouncing ball. (Note: Can be broken by enemies or canceled with Shooting/ads.)
Cooldown: ?/11/10/9/7

Heal
This hack that heals yourself and allies within a set area.
Duration: 15 seconds
Cooldown: 10/9/8/7/5
Heal Amount: 8/10/11 HP Per Second
Heals Through: 1 Floor and 1 Wall

Invisibility
Cloak yourself for a limited time and sneak up on your opponents. When activated, an audible aura can be heard by players. Shooting, ads, or use of any other ability will cancel this hack.
Duration: 8 Seconds
Cooldown: 12/11/10/9/7 Seconds

Mine
If hostile Contenders get too close to this proximity mine, it'll home in and unleash a devastating explosion.
Duration: 1 minute
Cooldown: 10/9/8/7/5 Seconds
Base Damage: 50
Upgraded Damage: 75

Reveal
The Reveal Hack will ping the location of nearby enemies for you and your squad.
Duration: 6 Seconds
Cooldown: 14/13/12/11/9 Seconds

Slam
Leap high into the air at which point you can either smash back down to the ground, dealing damage to any enemies around you and send them flying, or pull out a weapon and shoot at enemy players from above while hanging in the air.
Cooldown: 10/9/8/7/5
AOE Base Damage: 30
AOE Upgraded Damage: 45

Teleport
Teleport lets you aim at a distant location and travel there in a heartbeat.
Cooldown: 12/11/10/9/7

Wall
Deploy a breakable and stackable wall. You can place a wall in mid air.
Duration: 2 Minutes
Cooldown: 10/9/8/7/5 Seconds
Health: 250
Max of 5 Walls can be spawned at a time.