Unlocking the Hearthstone Legend Card Back Requirement:
Player must reach Legendary Ranking in Ranked Mode at least once in a given Season.
(Each Month is a new Season in Hearthstone)
(Every Season Ends at the End of the Month)
Legendary Ranked Hearthstone Players make up less then 1% of the Player Base for Heathstone.
This makes the Legend Card Back all the more exclusive and rare as a Card Back in Hearthstone. Normally only pro players and respected players have the Legend Card Back.
After reaching Legendary Rank Once in Ranked Mode you will unlock the Legend Card Back forever!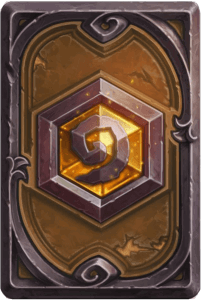 A Easy & Fast way to Unlock Hearthstone Legend Card Back.
[snippet hearthstone-rank-boost]
Hearthstone Legendary Card Back
Hearthstone's Legendary Card Back is only unlocked for players who have reached Hearthstones Legendary Rank in Ranked Mode just once in a season.
This has its challenges, with Seasons in hearthstone only lasting around 30 days/1Month. Since when a Season Ends in hearthstone every player in Ranked Mode goes threw a Ranked Mode Soft Reset. This can be a problem if you cant reach Legendary Ranking in at least 1 month since your ranking will go threw a soft reset, you will have to re rank up in the hopes of reaching Legendary.