Welcome to our Guilty Gear Strive Best Characters Tier List, using a ranking system we easily display what we consider to be the most reliable picks in the game at the moment. If you are unfamiliar with how this Tier List works, we have an explanation of each tier near the bottom of the page.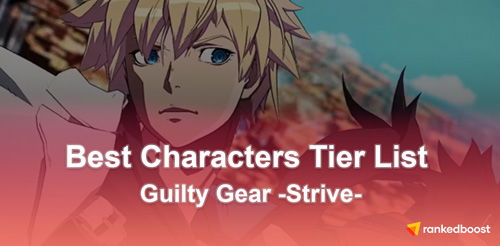 Depending on your playstyle, you may prefer a particular character type, in Guilty Gear Strive each character has a type associated with them such as Power, Tricky, Balance, and Speed. You can learn more about this by visiting out Character List guide.
Guilty Gear Strive Tier List
Below we rank the Best Characters Guilty Gear Strive. These rankings are determined based on the current Competitive Meta, Difficulty To Play, and the Range of Attacks of each character.
Currently, this Tier List is based on Guilty Gear Strive Beta Patch and is subject to change when the game is released.
S Tier – Sol Badguy, Ky Kiske
A Tier – Faust
B Tier – Potemkin, Chipp Zanuff, Axl Low
C Tier – May
D Tier –
E Tier –
F Tier –
S

Sol Badguy

Ky Kiske

A

Faust

B

Potemkin

Chipp Zanuff

Axl Low

C

May

D

E

F
Tier List Rankings Explained
S Tier – (Best) Highest ranking Characters in our Guilty Gear Strive Tier List.
A Tier – (Strong) Very strong pick, but not on the same level as S Tier.
B Tier – (Good) Good choice and can be viable in the hands of a skilled player.
C Tier – (Average) The middle of the pack neither good nor bad.
D Tier – (Below Average) Slightly on the weaker side of an average pick.
E Tier – (Weak) Underpowered choice and wouldn't recommend unless you enjoy the character playstyle.
F Tier – (Worst) The lowest ranking characters in this Guilty Gear Tier List.
You can learn more about each character's Difficulty, Playstyle Type, and Attack Range by visiting our Character Guide.