The Grand Theft Auto San Andreas Shovel is a Melee and can be found in 11 hidden locations within San Andreas.
| Damage | Fire Rate | Mag Size | Range | Reload Speed |
| --- | --- | --- | --- | --- |
| TBD | TBD | TBD | TBD | TBD |
Navigate this GTA San Andreas Shovel Guide using the links below.
GTA San Andreas Shovel Cheat Code
Thier does not appear to be a Cheat Code for Shovel, instead you can view our Cheat Code List or use our Location Guide and find the Shovel within the game.
Where To Find Shovel in Grand Theft Auto San Andreas
List of Map Locations you can find a Shovel in Grand Theft Auto San Andreas.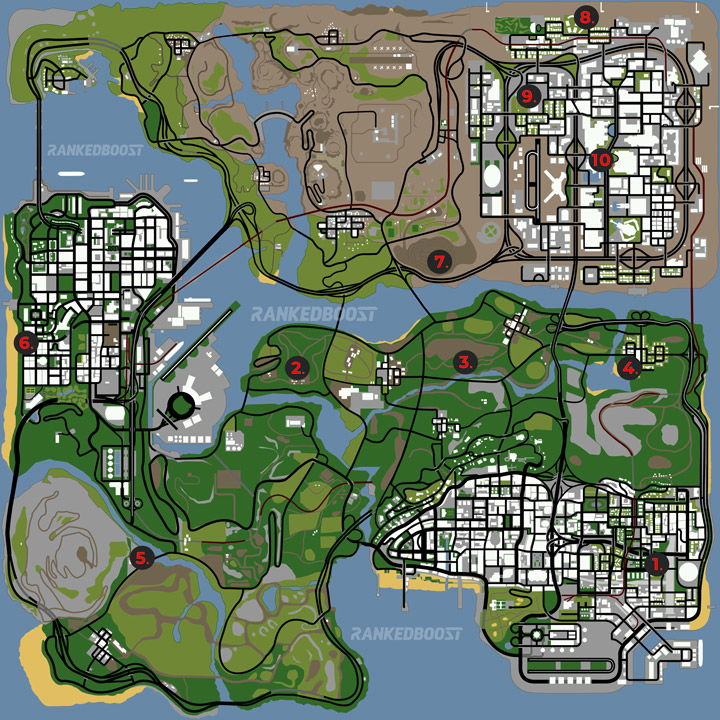 1
Los Santos, Ganton
→
found in the backyard of Ryder's house.
2
Red County, The Panopticon
→
Under the overhang of one of the dingy shacks in the central part of The Panopticon.
3
Red County, Fern Ridge
→
next to the makeshift graves just to the west of Catalina's Hideout.
4
Red County, Palomino Creek
→
Located inside the graveyard in the southwest corner of Palomino Creek.
5
Whetstone
→
next to a pile of coal on the east side of the Angel Pine Junkyard. You should find a container crate and you should see the Shovel.
6
San Fierro, Ocean Flats
→
found in front of a beige and white house facing the beach. You can find the Shovel is in front of this house.
7
Bone County, Hunter Quarry
→
Near one of the half
→
buried crates just west of the rock crushing machines at the bottom of Hunter Quarry.
8
Las Venturas, Prickle Pine
→
found in the northeastern part of the tennis courts for the apartment complex in northeast Prickle Pine.
9
Las Venturas, Redsands West
→
found in the east dugout at Las Venturas Stadium.
10
Las Venturas, Pirates found in Men's Pants
→
Hidden in the bushes just south of the large skull at the north part of the lagoon for the Pirates found in Men's Pants Safehouse.