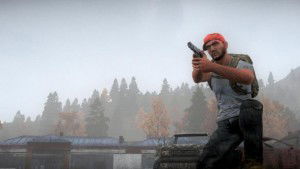 Getting geared in H1Z1 is a common problem for alot of players playing the open-world zombie survival mmo game. I'll go over a few tips and tricks to get geared in H1Z1 in under 2 minutes or less. The time is takes to get loot and geared depends on how populated the server you join is.
Quick Methods to Get Geared
Start off with joining a high populated server, this will help you get geared alot faster. Once you load in you should find your location in H1Z1 by pressing enter and typing in /loc. Identify where you are and run to the nearest area with buildings or houses with a makeshift bow and arrows to kill someone quickly for their loot.
If you find that you spawned in the middle of nowhere, you can press enter and type in /respawn, that will help you get a better spawn and a better chance to get geared in H1Z1. Here are some quick tips on locations where you can find weapons and ammo.
If you kill someone who has a key or a letter you can find powerful guns and loot by locating where the quest loot cache is.
Many players will find spark plugs, if you get a hold of them its super easy to find a battery all you need to do is find a car, and your ready to roll!