Fire Emblem Heroes Growth Rates IV are the amount of stats your hero will gain upon increasing in a level. An increase of 5 points is the highest value per level which indicates you got a perfect 100% level up. That's a good indicator of how powerful your hero will become from leveling up.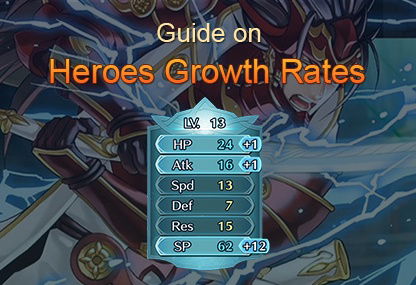 Fire Emblem Heroes Growth rates have a percentage chance on how much values you will increase in during a Level Up, a randomly generated number with a maximum value of 5.
Fire Emblem Heroes IV Calculator
| | Lvl 1 Stats | Lvl 40 Stats |
| --- | --- | --- |
| HP | | |
| ATK | | |
| SPD | | |
| DEF | | |
| RES | | |
| Total | - | - |
What are Fire Emblem Heroes IV's?
In FE: Heroes, each unit has different stat values. This variation are called individual values or "IV" for short.
A Hero currently cannot have "Perfect Stats" in-game.
Character IVs will not change when ranking up that unit (Example: 4☆ Star Into 5☆ Star).
How To Use The Fire Emblem Heroes IV Calculator?
The IV of your Hero can be determined based on the stats of a Rank 5 level 1 unit.
Fire Emblem Heroes Growth Rate
This information is hidden and not revealed to the player. However it's simple to determine it upon leveling up, if its 1-2 value increase then you were unlucky and are around a 20%-40% fire emblem heroes growth rate (5 value raise = 100%).
In the past series some heroes have always had a higher rate than others, we've wen't ahead and list the highest and lowest growth rates along with the average for each stat based on the previous fire emblems serie(s).
9 Characters who had the highest
Nowi (FE13) – 505%
Anna (FE13), Lethe (FE9) – 435%
Myrrh (FE8) – 580%
Tiki (FE13) – 540%
Fa (FE6) – 600%
Muarim (FE9) – 485%
Panne (FE13) – 450%
Nah (FE13) – 484%
Flavia (FE13), Nasir (FE9), Ulki(FE9) – 430%
6 Characters who had the lowest
Marcus (FE6) – 185%
Niime (FE6) – 110%
Yodel (FE6) – 125%
Garret (FE6), Zealot (FE6), Igrene (FE6), Yunno (FE6) – 200%
Dayan (FE6) – 150%
Bartre (FE6), Douglas (FE6) – 205%
Strength/Magic
FE 13: 30% (

Magic

– All), 52% (

Strength

– All), 54% (

Magic – Magical

Characters Only),  57% (

Strength

–

Physical

Characters Only)
FE 10: 23% (

Magic

– All),40% (

Strength

– All), 53% (

Magic – Magical

Characters Only), 45% (

Strength – Physical

Characters Only)
FE 9: 23% (

Magic

– All), 45% (

Strength

– All), 44% (

Magic – Magical

Characters Only), 51% (

Strength

–

Physical

Characters Only)
FE 8: 45%
FE 7: 41%
FE 6: 40%
The Average Growth Rate
HP
FE 13: 90%
FE 10: 58%
FE 9: 76%
FE 8: 73%
FE 7: 70%
FE 6: 74%
Speed
FE 13: 57%
FE 6: 43%
FE 7: 44%
FE 8: 47%
FE 9: 49%
FE 10: 44%
Defense
FE 13: 43%
FE 10: 33%
FE 9: 35%
FE 8: 29%
FE 7: 23%
FE 6: 22%
Resistance
FE 13: 31%
FE 10: 34%
FE 9: 32%
FE 8: 30%
FE 7: 31%
FE 6: 21%